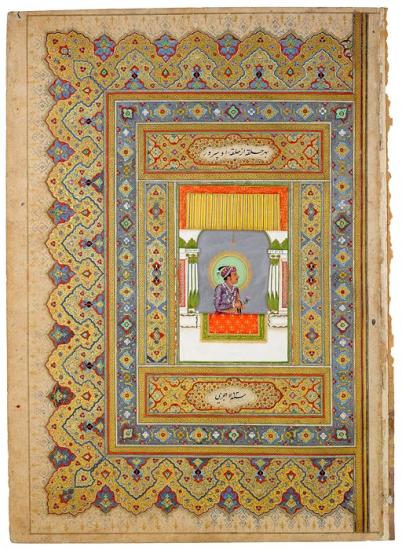 Prince Salīm at an Audience Window
Leaf from the Read Mughal Album
Late 18th century, with border dated 1749–50
Purchased by Pierpont Morgan, 1911
Item description:
This portrait of the Mughal emperor Salīm, who took the name Jahāngir (World-Seizer) when he ascended the throne (r. 1605–27), originally faced that of his father, Emperor Akbar (r. 1556–1605), shown on the right, when it was mounted in the album (see MS M.458.24). The rhyming couplet in the cartouche above Salīm, which ends with a date (1749–50), continues the one below Akbar. Both men have haloes, are shown at audience windows (jharokas), and were painted by the same artist. The portraits are applied to a type of elaborate border used for the opening pages of a manuscript (sarlauḥ). Indeed, as the leaf is numbered 1, these facing pages originally formed the opening of the Read Mughal album.
Exhibition section:
The Read Mughal Album
Pierpont Morgan purchased the Read Mughal album, along with a Persian album, from Sir Charles Hercules Read, Keeper of British and Medieval Antiquities at the British Museum, in 1911. The Morgan purchase consisted of thirty folios (including both Indian miniatures and the Mughal portraits presented here), but Read owned at least forty-eight others, now widely dispersed. The leaves were probably once bound in several lacquered bindings. The identity of their compiler has not been established, but many borders date from the eighteenth and nineteenth centuries. The Mughal emperors of India commissioned biographies and were frequently portrayed by artists. Here the paintings are presented in the order of the emperor's reigns rather than the dates of the miniatures, starting with Bābur (r. 1526–30), the Muslim founder of the dynasty, and ending with Shāh Jahān (r. 1628–58), builder of the Taj Mahal.