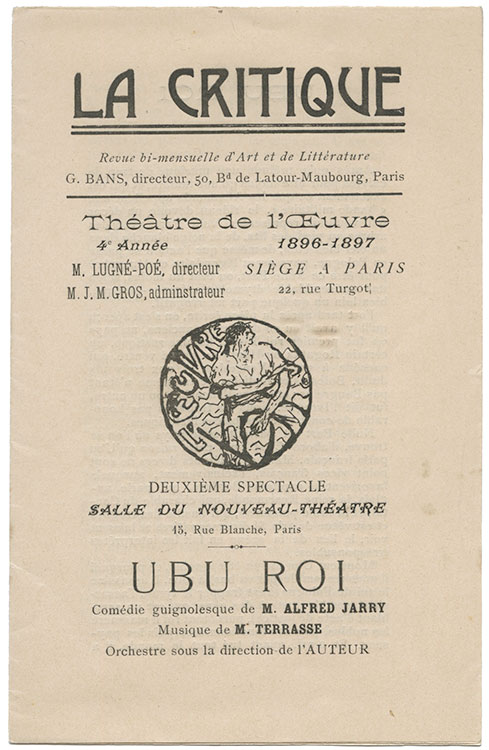 Jarry was in the midst of work on Perhinderion in early 1896 when he proposed a production 
of Ubu roi to Aurélien Lugné-Poe, the director of the cutting-edge Théâtre de l'Œuvre. As incentive, Jarry volunteered to handle the Œuvre's publicity and race around Paris on his bicycle to drum up subscriptions. He also helped to adapt the translation of Ibsen's Peer Gynt. Diminutive in size, Jarry played the part of a troll.

Lugné-Poe had first taken an interest in Jarry based on his experimental books and magazines. A postcard and an inscribed special copy of Les minutes in the Morgan's collection suggest that, even as plans for Ubu roi were underway, the author continued to use his publications to gain the director's confidence. Jarry's determination to bring an equal degree of innovation to the stage, however, began to test Lugné-Poe. He was wary of Jarry's reputation as an eccentric and was baffled by the play. He was on the verge of canceling the project until Rachilde assured him that, no matter what, Ubu roi would be a sensation. On 9 and 10 December, 1896, Rachilde's prediction came true. It was a succès de scandale.

Program for Ubu roi at the Théâtre de l'Œuvre (Paris: La Critique), 1896. The Morgan Library & Museum, purchased on the Gordon N. Ray fund, 2019. PML 198466.