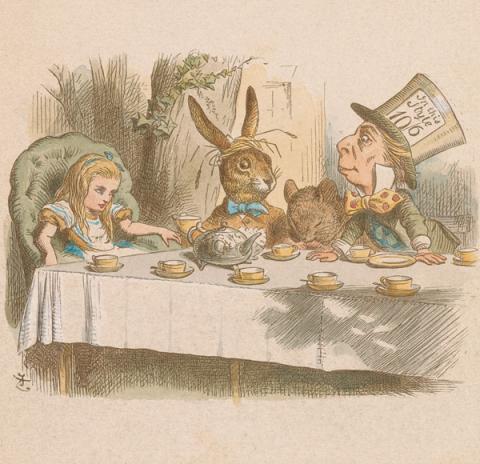 Alice's Adventures in Wonderland was first published in 1865, but the story originated three years earlier during a boating trip one perfect English summer afternoon.

Charles Lutwidge Dodgson (better known by his penname Lewis Carroll) and Robinson Duckworth, both young Oxford dons, were rowing the three Liddell sisters—Alice, Lorina, and Edith—up the River Thames to the hamlet of Godstow for a picnic. Along the way, the girls asked for a story.

Storytelling frequently enlivened their outings, and Carroll readily obliged. With no idea what would follow, he sent his heroine "straight down a rabbit-hole, to begin with, without the least idea what was to happen afterwards," and the narrative of Wonderland emerged over the long afternoon. At the end of the day, ten-year-old Alice asked for a written copy of the story.

Carroll drafted an outline the following day and finished the text within a few months. But, keenly attuned to the importance of pictures in a children's book, he worked on the story's illustrations for more than two years. The manuscript, titled "Alice's Adventures Under Ground," was finally completed and given to Alice in 1864.

An early draft was shared with the fantasy children's writer George Macdonald, whose young son Greville so loved the tale that he "wished there were 60,000 volumes of it." Macdonald and other friends encouraged Carroll to publish, and he did so the next year, after revising the book to twice its original length and commissioning John Tenniel, one of the best illustrators of the day, to re-do the pictures. Alice's Adventures in Wonderland appeared on 4 July 1865, exactly three years after the famous boating trip.

One early copy was seen by John Tenniel, who was shocked to find his pictures badly reproduced. He wrote Carroll immediately and objected so strongly that the author resolved to withdraw the entire edition—a radical decision, since Alice was essentially a self-published book. Carroll estimated he would have to sell four thousand copies just to break even, and he feared that for an unknown debut novelist this was "too much to hope for."

Nevertheless, he went ahead, and a new edition appeared only a few months later to immediate and lasting success. The book, which has never been out of print, has had an enormous impact on children's literature and popular culture. The characters have been readily adapted and reinterpreted in countless ways. Alice is a strong and intriguing heroine, and it is easy to identify with the young protagonist as she learns to navigate the world.

In this online exhibition, we invite you to learn about Alice, Lewis Carroll, and the history of the original manuscript; trace the development of the iconic illustrations; page through a selection of manuscripts and letters;  watch early film adaptations, and listen to Alice-inspired music.
Share your own Wonderland experience: #Alice150 #WonderlandNYC
This online exhibition is presented in conjunction with the exhibition Alice: 150 Years of Wonderland on view 26 June to 11 October 2015, organized by Carolyn Vega, Assistant Curator of Literary and Historical Manuscripts.