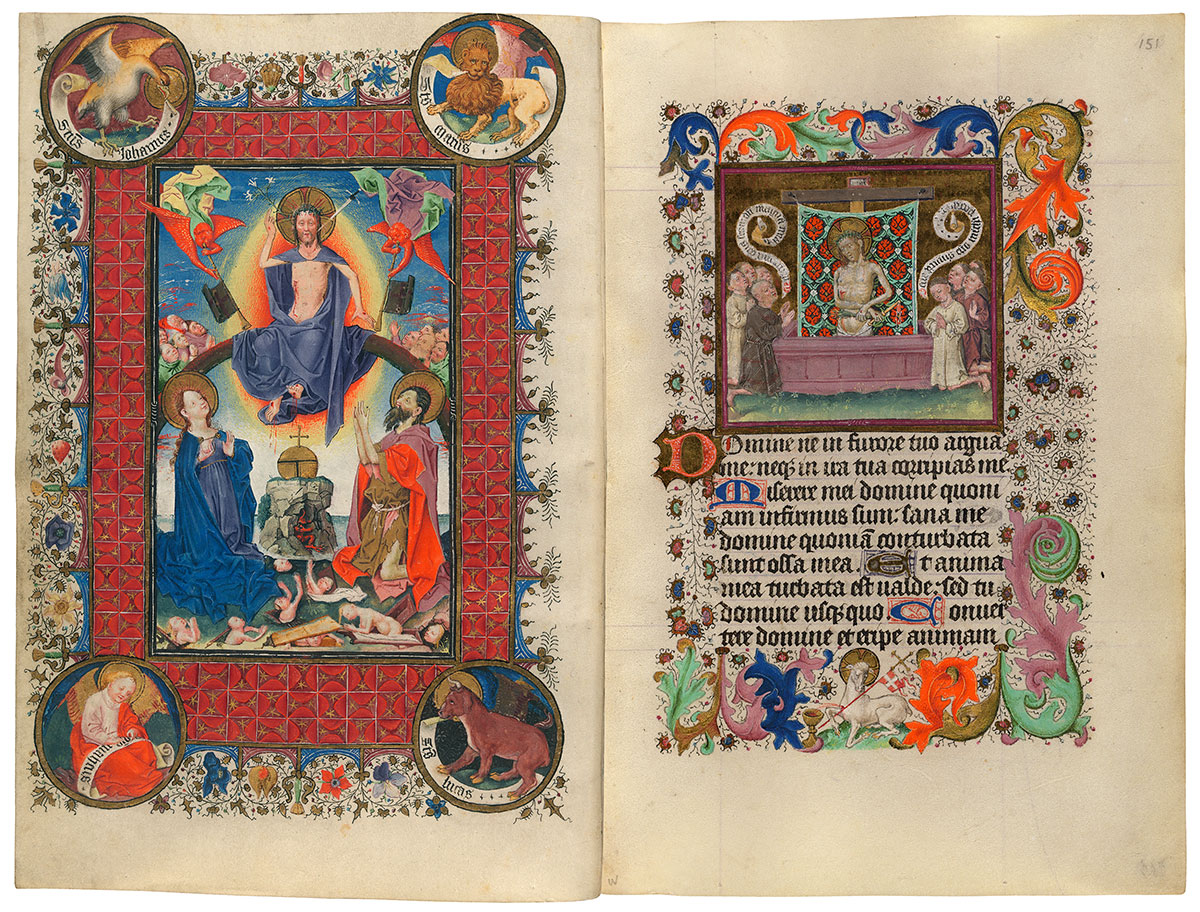 Last Judgment
Man of Sorrows Petitioned by Penitents
7 1/2 x 5 1/8 inches (192 x 130 mm)
Purchased on the Belle da Costa Greene Fund with the assistance of the Fellows, 1963; purchased on the Belle da Costa Greene Fund with the assistance of the Fellows and with special assistance of Mrs. Frederick B. Adams, Sr., Mrs. Robert Charles, Mr. Laurens M. Hamilton, The Heineman Foundation, Mrs. Donald F. Hyde, Mrs. Jacob M. Kaplan, Mrs. John Kean, Mr. Paul Mellon, Mr. and Mrs. Charles F. Morgan, Mr. Lessing J. Rosenwald, Mr. and Mrs. August H. Schilling, Mrs. Herbert N. Straus, Mrs. Landon K. Thorne, Mrs. Alan Valentine, Mr. and Mrs. Arnold Whitridge, and Miss Julia P. Wightman, 1970
MSS M.917/945, p. 28–f. 151r
Description:
Codicological evidence—sewing holes and faint offset stains—confirms that this large Last Judgment occurred at the beginning of the Penitential Psalms. Trumpeting angels awaken the dead. Their intercessors are John the Baptist and Mary (who again bares her breast to her son). Their judge is Christ, who displays his dripping wounds. At his feet is the world, which rests on a rocky island; within a fissure in the rocks lurks a red demon. The smaller miniature is a bit more comforting: penitents approach Christ as the forgiving Man of Sorrows. In the bottom border, the Lamb of God pours his forgiving blood into a Eucharistic chalice.
Penitential Psalms

Medieval tradition ascribed the authorship of the Seven Penitential Psalms to King David, who composed them as penance for his grievous sins. These transgressions included adultery with Bathsheba and the murder of her husband, Uriah. In another commission of sin, a prideful David offended God by ordering a census of Israel and Judah.

These particular psalms (reckoned 6, 31, 37, 50, 101, 129, and 142 by medieval Catholics) have a long association with atonement. It is thought that by at least the third century they formed a part of Jewish liturgy. In the Christian tradition, they were known by the sixth century, when the Roman monk Cassiodorus referred to them as a sevenfold means of obtaining forgiveness. These seven psalms became linked to the Seven Deadly Sins; the former were prayed to avoid the latter.
Credits:
Image courtesy of Faksimile Verlag Luzern