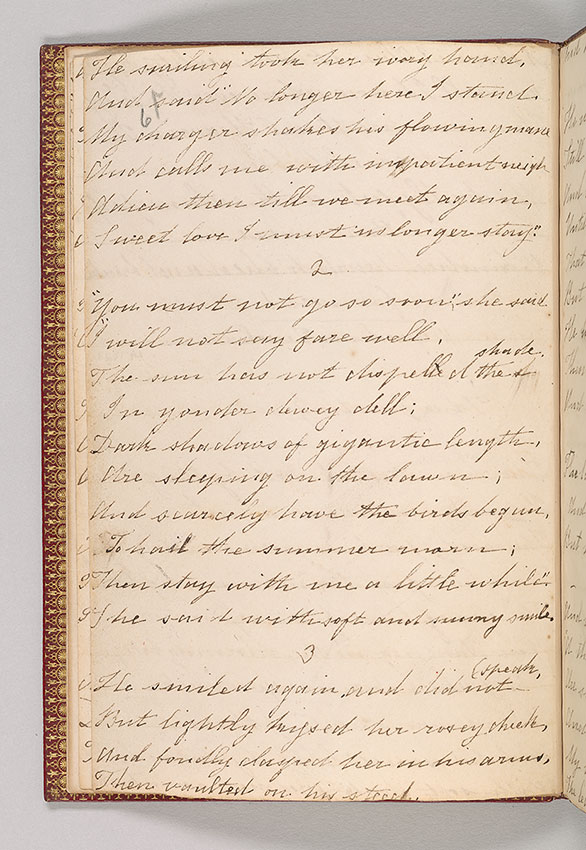 Collection of poems : autograph manuscript signed : [Haworth]
1838 Jan. 24-1841 Aug. 19
The Henry Houston Bonnell Brontë Collection. Bequest of Helen Safford Bonnell, 1969
Description:
"The Parting" (pp. 5–8)
Composed 9 July 1838, when Brontë was eighteen. Written in the voice of Alexandrina Zenobia. First published in Poems (1902), pp. 189–91. Poem 6 in Chitham (1979); pp. 457–59 in Alexander (2010).
Transcription:
He smiling took her wary hand,
And said "No longer here I stand.
My charger shakes his flowing mane
And calls me with impatient neigh
Adieu then till we meet again,
Sweet love I must no longer stay."

      2
"You must not go so soon," she said
"I will not say fare well,
The sun has not dispelled the shade
    In yonder dewey dell;
Dark shadows of gigantic length,
    Are sleeping on the lawn;
And scarcely have the birds begun,
    To hail the summer morn;
Then stay with me a little while."
She said with soft and sunny smile.

      3
He smiled again, and did not speak,
But lightly kissed her rosey cheek,
And fondly clasped her in his arms,
Then vaulted on his steed.