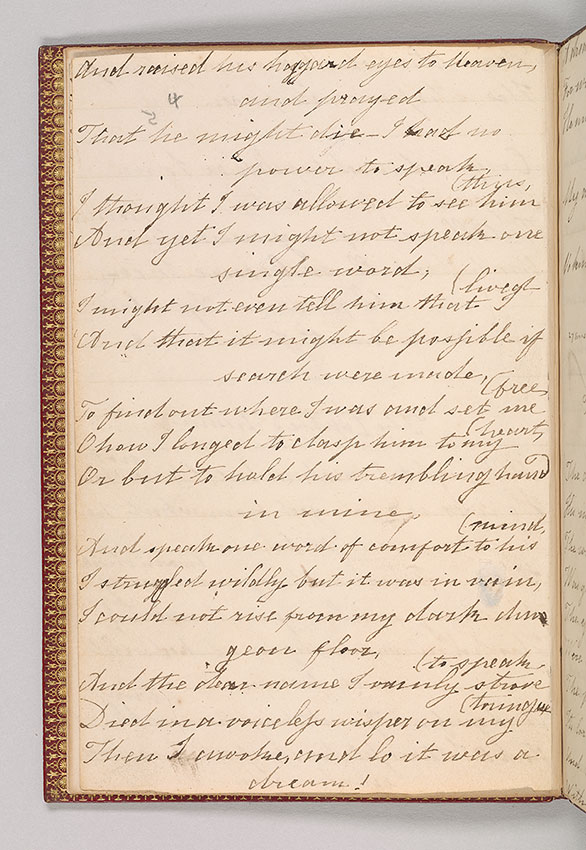 Collection of poems : autograph manuscript signed : [Haworth]
1838 Jan. 24-1841 Aug. 19
The Henry Houston Bonnell Brontë Collection. Bequest of Helen Safford Bonnell, 1969
Description:
"The Captive's Dream" (pp. 3–5)
Composed 24 January 1838, a few days after Brontë's eighteenth birthday. Written in the voice of Alexandrina Zenobia. First published in Poems (1902), pp. 185–86. Published in The Complete Poems of Anne Brontë (London: Hodder & Stoughton, 1920) with the incorrect title "A Captain's Dream." Poem 4 in Chitham (1979); pp. 454–55 in Alexander (2010).
Transcription:
And raised his haggard eyes to Heaven, and prayed
That he might die – I had no power to speak,
I thought I was allowed to see him thus,
And yet I might not speak one single word;
I might not even tell him that I lived
And that it might be possible if search were made,
To find out where I was and set me free,
O how I longed to clasp him to my heart,
Or but to hold his trembling hand in mine,
And speak one word of comfort to his mind,
I struggled wildly but it was in vain,
I could not rise from my dark dungeon floor,
And the dear name I vainly strove to speak,
Died in a voiceless whisper on my tongue
Then I awoke, and lo it was a dream!