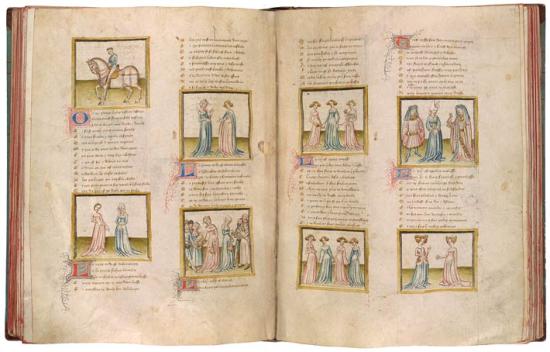 Purchased by Pierpont Morgan, 1910
MS M.396, fols. 118v–119r
Page description:
Machaut's poem "Tale of the Harp" is peopled by such personifications as Meekness, Honesty, and Youth. While women in the 1420s wore houpelands, they also dressed in a new, simpler garment called a gown, which, as seen here, was similar to the traditional cote hardy. Only the woman at the lower right wears an old-fashioned open surcot; she is Nobility, and, indeed, royal women still wore this garment for ceremonies. The miniatures reveal a variety of women's headgear. These range from simple veils, to chaperons, to elegant temples — worn alone, with sailing veils, or with a burlet. The two men at right wear traditional houpelands.
Exhibition section:
The Terrible Twenties
Following the assassination of his father in 1419, the new duke of Burgundy, Philip the Good, sided with England in one of the direst chapters of the Hundred Years' War. By 1422 northern France and Aquitaine were under English or Burgundian control. Paris was an occupied city. Only in 1429 did the tide begin to turn in France's favor, when Joan of Arc delivered Orléans and Charles VII was crowned king in Rheims Cathedral. Fashion retrenched.
While men and women continued to wear the houpeland, simpler garments for both sexes emerged. Men wore what was called a gown: a short, unwaisted garment unflatteringly belted at the hips. The resulting silhouette was top-heavy and bulbous. Sleeves were baggy, and the "bag hat" got droopier.
Women, while not dressed in the houpeland, might wear their new garment, also called a gown. Structured like the traditional cote hardy with a large skirt, the gown had an open or V neck and columnar or puffed sleeves. Headgear, however, did evolve: temples grew wider, and the veils and burlet worn atop them got taller.