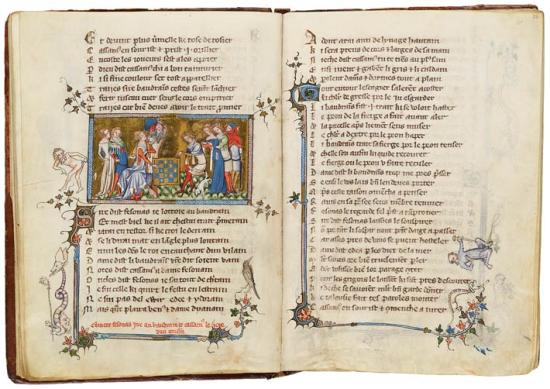 Jacques de Longuyon, Vows of the Peacock, in French
Gift of the Trustees of the William S. Glazier Collection, 1984
Page description:
The four young men in this miniature are all dressed at the height of the new fashion. They wear the new short garment, the cote hardy: buttoned down the front, it is tight at the skirt, bodice, and sleeves. All sport chaperons, two of which are dagged (cut into decorative strips). Some wear delicate shoes, while the youth in blue wears chaussembles: hose with leather soles. The two women at the left wear the open surcot. The woman in blue wears the closed surcot, furnished with a lined slit for access to the kirtle. She also wears tippets: thin decorative bands of cloth falling from the elbow.
Exhibition section:
Fashion Revolution
The "Fashion Revolution" began around 1330 with the invention of the set-in sleeve. Earlier garments were T-shaped, with sleeves of a piece with the body or sewn on a flat seam. The new technique (still in use today) cut sleeves with rounded tops and gathered them along basted threads into armholes in the bodice. This new tailoring, combined with the use of multiple buttons, made possible a snugly fitted bodice and tight sleeves. While providing more freedom of movement, the new garment for men—the cote hardy—also revealed the shapes of the wearer's torso and arms. The "Fashion Revolution" gave birth to men's modern dress, creating an outfit that was sharply differentiated from the dress of women.
Women's fashions, however, were also affected. Tighter bodices and sleeves became popular, as did exposed necks and shoulders. The sides of the outer garment, the surcot, now sometimes featured seductively large, peek-a-boo openings.
Men—and some women—turned the chaperon (a hood with an attached cape and tail) into a fashion accessory that lasted over a hundred years.