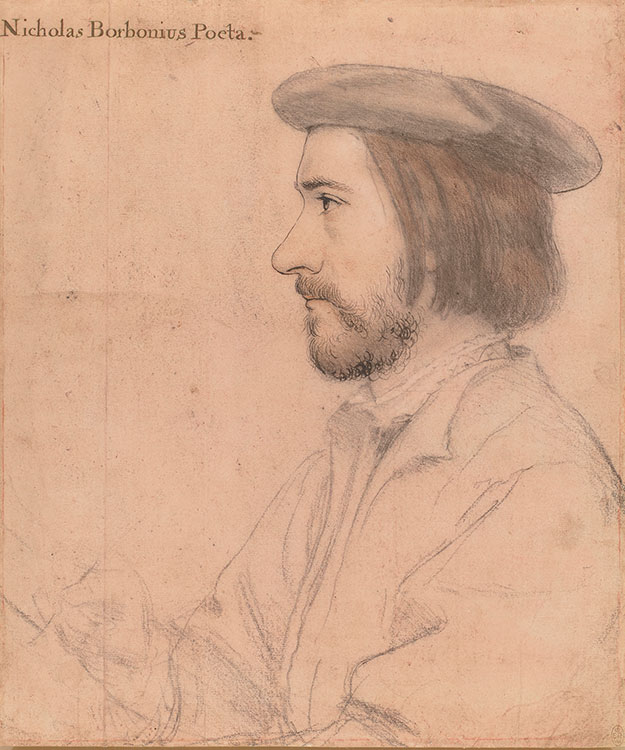 Nicholas Bourbon (ca. 1503–1549/50), a poet and humanist in the court of Henry VIII, was a friend and admirer of Holbein's, marveling at the lifelikeness of the artist's portraits in his verses. In this work, which served as a preparatory study for a woodcut illustrating Bourbon's Paidagogeion— a didactic poem influenced by the writings of Erasmus—Holbein turned his gaze toward the poet himself. Bourbon holds a quill pen in his quickly sketched right hand, as if actively composing. In keeping with his friend's interest in Greek and Roman culture, Holbein portrayed him in profile, reminiscent of an ancient coin.
Transcription:
Poet Nicholas Bourbon arrived in England in 1535, after being exiled from his native France on account of his Protestant sympathies. He soon entered the Tudor court, where he was closely aligned with Anne Boleyn, the second wife of King Henry VIII. It was at this time that Bourbon first met Hans Holbein, who had been recently appointed as a royal painter. In a prefatory letter included in his didactic poem Paidagogeion, Bourbon lists the artist among the friends he made at the English court and compares him to the renowned ancient painter Apelles.
In this portrait, Holbein depicts Bourbon in profile view and with a pen in hand, as if caught in the act of composing one of his poems. The image emphasizes the poet's intellectual and creative abilities and recalls Holbein's earlier portraits of scholars—most notably, Erasmus—at work. It is unclear whether Holbein intended to use this study to make a painted likeness. However, we know that the sheet served as a model for the woodcut portrait of Bourbon, included in the first edition of Paidagogeion.
Royal Collection Trust / © Her Majesty Queen Elizabeth II 2022