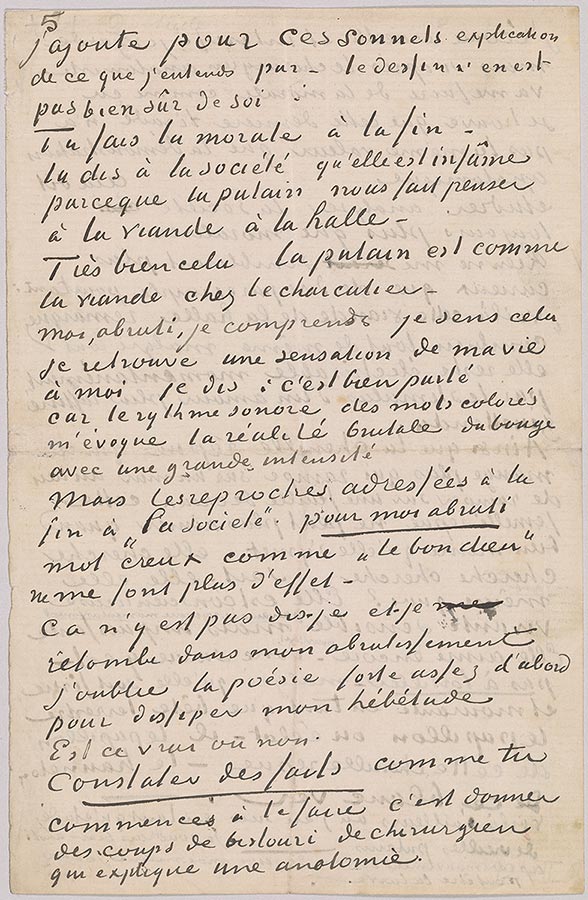 Vincent van Gogh, letter to Émile Bernard, Arles, 27 June 1888, Letter 9, page 3
Thaw Collection, given in honor of Charles E. Pierce, Jr., 2007
Translation:
I add about these sonnets explanation of what I understand by—their design is not really sure
of itself:
You moralize at the end.
You tell society that it is squalid because the whore makes us think of meat, of the market.
Very good, that, the whore is like meat at the butcher's.
For myself—numbed—I understand, I feel that, I recognize a sensation from my own life, I
say: that's well said.
Because the sonorous rhythm of the colorful words suggests to me the brutal reality of the dive
with great intensity.
But the reproofs addressed at the end to "society." As for me, numbed, hollow words like "the
good Lord" no longer have any effect on me.
It isn't there, I say, and I sink into my numbness again; I forget the poem, at first strong enough to
dispel my lethargy.
Is that true or not?
To report the facts, as you do at the beginning, is to wield the lancet like a surgeon explaining anatomy.
>© 2007 Van Gogh Museum, Amsterdam