January 22 through May 9, 2010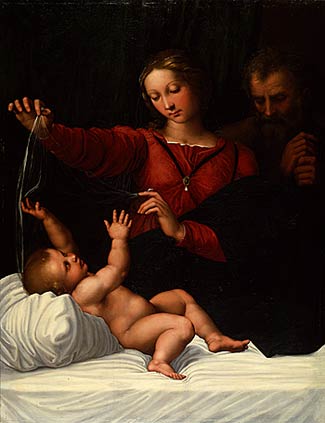 Raphael Workshop
The Holy Family
Oil on panel transferred to canvas. Cleaned in 1980.
45 1/2 x 34 3/8 inches (118.6 x 90.7 cm)
Purchased by J. Pierpont Morgan; acc. no. AZ 139

The Morgan's painting reproduces a famous composition by Raphael (1483–1520), which was probably commissioned by Pope Julius II (reigned 1503–13) and given to the church of Santa Maria del Popolo, Rome. Long considered lost, Raphael's original painting, also known as the Madonna of Loreto, likely is the one now in the Musée Condé, Chantilly. One of the numerous copies, now in Nijni Taghil, bears the date 1509, and thus possibly supplies a terminus ante quem for Raphael's original.

The composition represents the Virgin raising a transparent veil from the infant Christ, just wakened from sleep. The child reaches to play with the veil, an allusion to Christ's burial shroud and early death. The earliest published mention of Raphael's original is made by Giorgio Vasari, the celebrated sixteenth-century biographer of the Italian masters. In the 1550 edition of his Lives of the Painters, Sculptors, and Architects, he writes that Raphael painted a portrait of Pope Julius II in the same year that he also painted a very beautiful Madonna, noting that both works were preserved in the church of Santa Maria del Popolo in Rome. "In the last named picture," Vasari observes, "which represents the Nativity of Christ, the Virgin is covering with a veil the divine Child, the expression of whose countenance is of such wonderful beauty and his whole person so clearly demonstrates the divinity of his origin that all must perceive him to be truly the Son of God."

The above-mentioned portrait of Pope Julius II is probably the painting now in the National Gallery, London. It has been suggested that Pope Julius II, much distressed after his return from Bologna in 1511, donated both the Raphael portrait and Holy Family to the church of Santa Maria del Popolo, which the pope's family had patronized for several generations. Both paintings were shown to the general public only on religious feast days, when the Holy Family was displayed on one of the church's pillars.

In the Morgan version, as compared to the Chantilly original, the Virgin's brooch has gained a pendant pearl and the drapery on the bed falls in more folds. The high quality and refined detail of the Morgan version distinguish it from most of the other extant examples of this composition. In all likelihood it was made by one of Raphael's pupils during the master's lifetime or shortly after his death.

A Closer Look
What follows are the results of a noninvasive technical examination undertaken in 2009 by conservation students Jennifer Hickey and Kristin Patterson, under the guidance of Jean Dommermuth and Margaret Holben Ellis, Conservation Center, Institute of Fine Arts, New York University.
Ultraviolet Examination
Under ultraviolet light, differences in the age and chemical composition of painting media can be detected. Ultraviolet examination analysis revealed that the painting is generally in fair condition. Significant restoration can be seen along the outer edges of the canvas and along the vertical axis.
Infrared Reflectography
Infrared reflectography, which causes layers of oil paint to appear transparent, revealed a black ink underdrawing on the painting. There is extensive underdrawing demarcating the Virgin's features and drapery, more than is found in the Chantillly version.
X-radiography
X-radiography reveals differences in the densities of materials and is useful in deciphering a painting's physical construction. While the Morgan's work is, at present, on canvas, x-radiography indicated that it, like the Chantilly version, was once painted on a wood panel. The vertical striations, seen to the left, are textural remnants left in the preparatory ground (gesso) applied to the original wood panel. This ground layer, as well as the layers of oil paint found on top of it, was later transferred to canvas, a common occurrence during earlier restorations undertaken to restore deteriorated wood panels.
X-ray fluorescence
X-ray fluorescence, a form of elemental analysis, can be used to identify pigments. X-ray fluorescence indicated a significant copper content in the Virgin's robe, suggesting the artist's use of azurite, a typical blue pigment employed in sixteenth-century Italian painting.
Rhoda Eitel-Porter
Provenance:
Possibly Buonviso collection, Rome, seventeenth and eighteenth centuries (List 1 Ms. Inventory ["Inventario dei quadri dell'eredita del Signor Buonviso assegnati al sig.e Alessandro / Secolo XVI–XVII"], fol. 3, no. 70: "quadro in tavola con Gesu, Giuseppe, e Maria che con un velo cuopre il Bambino di Raffaello d'Urbino / cornice dorata." List 2 Ms. Inventory ["Quadri"], unnumbered, fourth from top: "Un Detto in tavola colla madonna, il Bamb. e S.Giuseppe di Raffaello / non lavato mai." List 3 Ms. Inventory ["Nota dei Quadri—1600–1776], fol. 7: "Quadro in Tavola bislongo, con Gesu, la Madonna, e S. Giuseppe, di Raffaello d'Urbino"; by descent to Marchese Francesco Montecatini Buonvisi, 1838 (according to Cecil Gould and Sylvie Béguin, La Madone de Lorette, exhibition catalogue, Réunion des Musées Nationaux, Paris, and Musée Condé, Chantilly, 1979, pp.18, 32, 64, no. 38); G. or W. Kennedy Laurie, Florence; Charles Fairfax Murray, London; from whom purchased through Galerie Alexandre Imbert in 1910 [invoice of March–June 1910 in Morgan Library & Museum archive, as Raphael, together with four painted portraits by Tommaso di Stefano, Nattier, Reynolds, and Largilliere, for £40,000 and delivered to Princes Gate, London].

Location:
An old photograph from the ca.1910 shows the painting at the center of the east wall in the West Room (Mr. Morgan's Study), where now hangs a painting by Cima da Conegliano.

In 1927 the painting hung near the center on the south wall of the West Room (Mr. Morgan's Study) and was no. 21 in the inventory of works loaned to the Morgan Library by J. Pierpont Morgan, Jr.

Select Bibliography:
J. A. Crowe and G.B. Cavalcaselle, Raphael: His Life and Works, London, 1882–85, pp. 110–11.

Cecil Gould and Sylvie Béguin, La Madone de Lorette, exhibition catalogue, Réunion des Musées Nationaux, Paris, and Musée Condé, Chantilly, 1979, pp.18, 32, 64, no. 38.

David Alan Brown, Raphael in America, exhibition catalogue, National Gallery of Art, Washington, 1983, pp. 33, 69–72, no. 37, fig. 14.