January 22 through May 9, 2010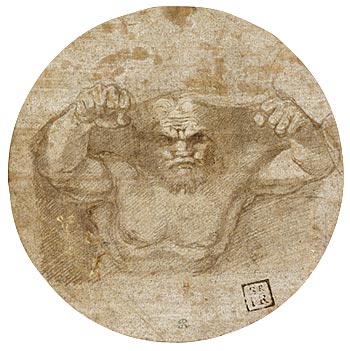 Raphael
Arriving in Rome in 1508, Raphael found success as court artist to popes Julius II della Rovere and Leo X de' Medici. The Morgan's holdings by the artist trace his development from his early pre-Roman period, represented by the fresco design Cardinal Piccolomini Presents Eleanor of Portugal to Her Betrothed, Emperor Frederick III and the cartoon related to the predella panel depicting Christ's Agony in the Garden, to his metalpoint drawing Male Figure Symbolizing an Earthquake—a study of ca. 1515 for one of the tapestries Raphael designed for the Sistine Chapel.
Raphael's Followers
Heavily employed by a succession of popes and secular patrons, Raphael developed a large workshop that included artists such as Polidoro da Caravaggio, Perino del Vaga, and Giulio Romano. After Raphael's premature death in 1520, these artists developed their own highly successful careers. Polidoro was one of the city's most prolific facade decorators, an aspect of his career uniquely illustrated by the Morgan's study of a Prisoner Brought Before a Judge, a scene once painted on a Roman house. Perino's independent career included a commission from Cardinal Alessandro Farnese for the design of rock-crystal plaques, which today still comprise part of candelabra in the treasury of St. Peter's Basilica. The Morgan's two designs for this commission, Christ Healing the Lame at the Pool of Bethesda and the Miracle of the Loaves and Fishes, are on view in the exhibition. One of Raphael's most successful pupils (and later court artist to the Gonzaga in Mantua), Giulio Romano is represented by an early lunette design and by the vigorous St. Jerome and St. Augustine. The show also includes the Codex Mellon, one of the earliest and most important volumes of Renaissance antiquarian drawings relating to contemporary architectural projects. Probably drafted ca. 1513 by an architect from the circle of the great Renaissance master Donato Bramante, the sketchbook records plans for the new basilica of St. Peter's as well as those relating to Bramante's Palazzo Caprini, also known as Raphael's house.