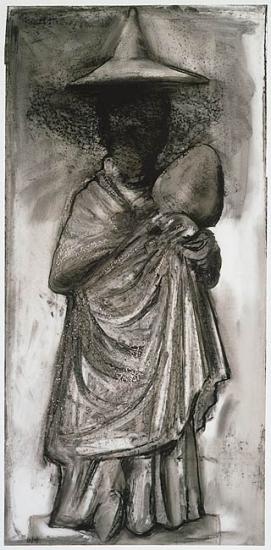 Charcoal and pastel on plastic sheet
Item description:
While the majority of the Glyptotek Drawings were inspired by antique marbles, this is one of two based on terra-cotta Tanagra figurines. Named after the site in central Greece where thousands of such figures were unearthed, these small sculptures depict draped women, often wearing hats and holding fans.
To produce the veil-like haze that obscures the figure's face, Dine used the frottage technique: he placed a rough surface underneath the plastic sheet and rubbed the drawing with a compressed charcoal crayon. "My work is based on the physical," he said. "The act of making this stuff is not contemplative. Nor is it what would be called conceptual."
Credits:
Photograph courtesy of The Pace Gallery.
© 2011 Jim Dine / Artists Rights Society (ARS), New York