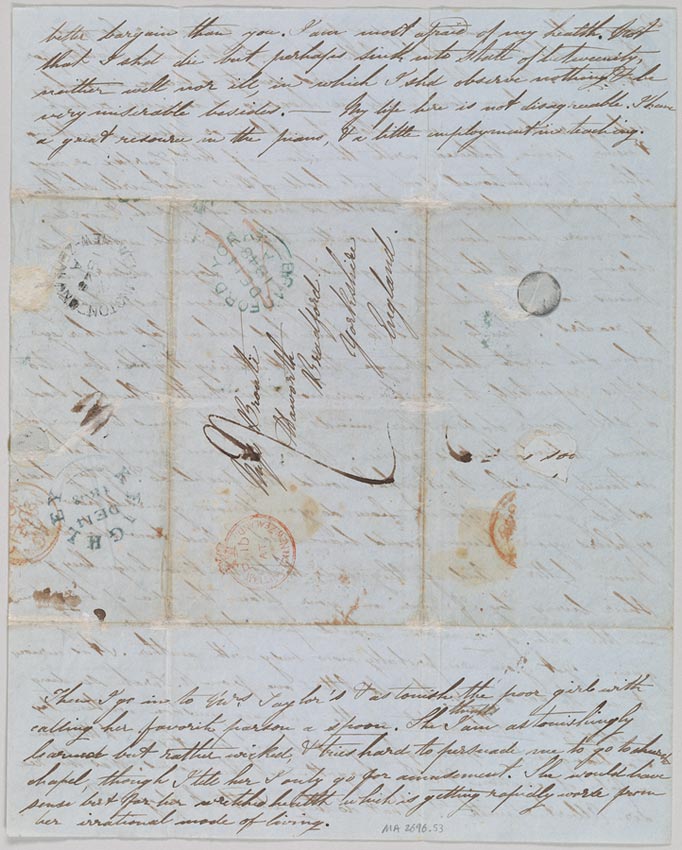 Letter to Charlotte Brontë, dated Wellington, New Zealand, 24 July 1848
Henry H. Bonnell Collection, bequest of Helen Safford Bonnell, 1969
Description:
When she published her first novel, Jane Eyre, in 1847, Charlotte Brontë told almost no one. But she did send a copy, along with Emily's Wuthering Heights and Anne's Agnes Grey, to her good friend Mary Taylor in Wellington, New Zealand. Taylor responded with this affectionate letter. By the time it arrived in Yorkshire (five months after she had dispatched it from Wellington), Emily was near death and "Currer Bell" was a literary star.
Transcription:
better bargain than you. I am most afraid of my health. Not that I shd die but perhaps sink into state of betweenity, neither well nor ill, in which I shd observe nothing & be very miserable besides. —My life here is not disagreeable. I have a great resource in the piano, & a little employment in teaching.
Then I go to Mrs. Taylor's & astonish the poor girl with calling her favorite parson a spoon. She thinks I am astonishingly learned but rather wicked, & tries hard to persuade me to go to church chapel, though I tell her I only go for amusement. She would have sense but for her wretched health which is getting rapidly worse from her irrational mode of living.
[letter continues on a separate sheet in the Berg Collection at the New York Public Library] I can hardly explain to you the queer feeling of living as I do in 2 places at once. One world containing books England & all the people with whom I can exchange an idea; the other all that I actually see & hear & speak to. The separation is as complete as between the things in a picture & the things in the room. The puzzle is that both move & act, & [I] must say my say as one of each. The result is that one world at least must think me crazy. I am just now in a sad mess. A drover who has got rich with cattle dealing wanted me to go & teach his daughter. As the man is a widower I astonished this world when I accepted his proposal, & still more because I asked too high a price (£70) a year. Now that I have begun the same people can't conceive why I don't go on & marry the man at once which they imagine must have been my original intention. For my part I shall possibly astonish them a little more for I feel a great inclination to make use of his interested civilities to visit his daughter &see the district of Porirua.
If I had a little more money & could afford a horse (she rides) I certainly would. But I can see nothing till I get a horse, which I shall have if I'm lucky in 2 or 3 years.
I have just made acquaintance with Dr & Mrs. Logan. He is a retired navy doctor & has more general knowledge than any one I have talked to here. For instance he had heard of Phillippe Egalite—of a camera obscura; of the resemblance the English language has to the German &c &c. Mrs. Taylor Miss Knox & Mrs. Logan sat in mute admiration while we mentioned these things, being employed in the meantime in making a patchwork quilt. Did you never notice that the women of the middle classes are generally too ignorant to talk to? & that you are thrown entirely on the men for conversation? There is no such feminine inferiority in the lower. The women go hand in hand with the men in the degree of cultivation they are able to reach. I can talk very well to a joiner's wife, but seldom to a merchant's.
I must now tell you the fate of your cow. The creature gave so little milk that she is doomed to be fatted & killed. In about 2 months she will fetch perhaps £15 with which I shall buy 3 heifers. Thus you have the chance of getting a calf sometime. My own thrive well & possibly I [shall] have a calf myself. Before this reaches England I shall have 3 or 4.
It's a pity you don't live in this world that I might entertain you about the price of meat. Do you know I bought 6 heifers the other day for £23? & now it is turned so cold I expect to hear one half of them are dead. One man bought 20 sheep for £8 & they are all dead but 1. Another bought £150 & has 40 left; and people have begun to drive cattle through a valley into the Wairau plains & thence across the straits of Wellington. &c &c. This is the only legitimate subject of conversation we have the rest is gos[sip] concerning our superiors in station who don't know us on the road, but it is astonishing how well we know all their private affairs, making allowance always for the distortion in our own organs of vision.
I have now told you everything I can think of except that the cat's on the table & that I'm going to borrow a new book to read. No less than an account of all the systems of philosophy of modern Europe. I have lately met with a wonder a man who thinks Jane Eyre would have done better [to] marry Mr Rivers! He gives no reasons—such people never do.
Mary Taylor