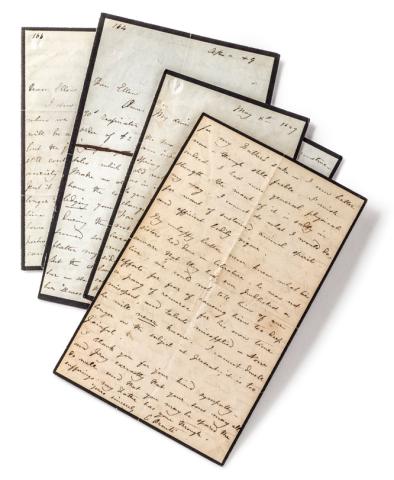 "I would still endeavour to keep my expectations low respecting the ultimate success of Jane Eyre," wrote Charlotte Brontë to William S. Williams of the publishing firm Smith, Elder & Co. in October 1847. "A mere domestic novel will I fear seem trivial to men of large views and solid attainments." How wrong she was! Brontë's personal letters, a selection of which is presented here, reveal the doubt, pain, hope, and confidence she voiced before emerging as one of the world's most successful novelists. She confides in friends as she endures a stint as a governess, reveals her true identity to her publisher, and watches her three adult siblings fall mortally ill in quick succession. In 1854, her new husband, Arthur Bell Nicholls, expressed concern about the disposition of the personal letters of his famous wife. "Men's letters are proverbially uninteresting and uncommunicative," Brontë told her friend Ellen Nussey. "As to my own notes, I never thought of attaching importance to them, or considering their fate."
This online exhibition was created in conjunction with the exhibition Charlotte Brontë: An Independent Will, on view from September 9, 2016 through January 2, 2017 and organized by Christine Nelson, Drue Heinz Curator of Literary and Historical Manuscripts.
Charlotte Brontë: An Independent Will is made possible by Fay and Geoffrey Elliott.
The catalogue is underwritten by the Andrew W. Mellon Fund for Research and Publications.