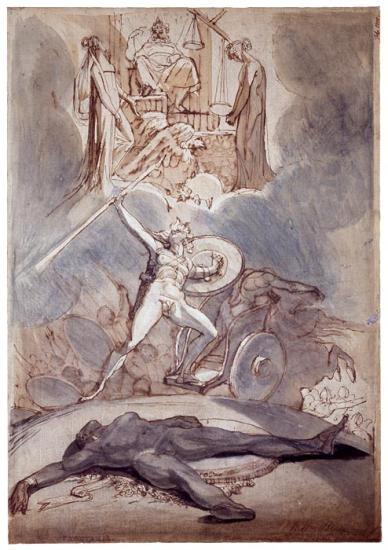 Psychostasy (The Weighing of Souls), 1800
Inscribed at upper right corner in pen and brown ink, Febr. 1800; along with lower margin, PSYCHOSTASIA; perne stratarchou Aidiopon athobon—Memnona Chalkoaran.
Pen and brown ink, brown and gray wash, with blue watercolor, over traces of graphite
Gift of Louise Crane in memory of her mother, Mrs. W. Murray Crane
Item description:
Based on ancient sources, including Pindar and Plutarch, Psychostasy depicts Achilles as he wages battle in the Trojan War. Achilles gestures victoriously toward Jupiter above, who weighs the warriors' souls. In the foreground, the naked body of the slain Ethiopian king Memnon lies on his upturned shield. This drawing is preparatory for Fuseli's painting of the subject, now lost, commissioned by Sir Thomas Lawrence and exhibited at the Royal Academy in 1803.
About this exhibition:
William Blake (1757–1827) occupies a unique place in the history of Western art. His creativity included both the visual and literary arts. In his lifetime he was best known as an engraver; now he is also recognized for his innovative poetry, printmaking, and painting. Blake's keen perception of the political and social climate found expression throughout his work. His strong sense of independence is evident in the complex mythology that he constructed in response to the age of revolution.
Blake was already recognized as an engraver at age twenty-five, when his first volume of poems appeared. At thirty-three, in The Marriage of Heaven and Hell, he audaciously claimed that his birth had marked the origin of a "new heaven" in which his own art would exemplify the creativity prefigured by Milton and Michelangelo. By that time, Blake, in one of his most productive periods, had already produced Songs of Innocence and was at work on a series of illuminated books. In 1818 he met John Linnell, a young painter and engraver, through whom a group of young artists became Blake's followers. Calling themselves the Ancients, they helped perpetuate Blake's influence for generations.
The Morgan's Blake collection—one of this country's most distinguished—began with purchases as early as 1899 by Pierpont Morgan. During the tenure of Charles Ryskamp, director from 1969 to 1986, major gifts almost doubled the size of its Blake holdings. In recent years Ryskamp's own gifts of engravings, letters, and related materials have significantly enriched its scholarly resources.
Exhibition section:
II. Friends and Followers

Among Blake's early friends were professors and other students at the Royal Academy, many of whom became leading figures of the age. He frequently engraved works by Thomas Stothard, Henry Fuseli, and John Flaxman, for example, as will be seen in this gallery. In his day Blake was more widely esteemed as a fine engraver than as a painter, his own imaginative work having been produced primarily on speculation or for patrons. Only nine years before Blake's death, the young artist John Linnell (1792–1882) became both a patron and friend. Through him Blake became acquainted with several youthful artists who came to call themselves the Ancients, after Blake's frequent reference to earlier artists as "ancients." They were inspired by Blake's imaginative spirit and his love for the art of Michelangelo as well as for the poetry of Milton. These men––Edward Calvert, Samuel Palmer, George Richmond, Francis Oliver Finch, George Cumberland, Frederick Tatham, and Henry Walter––are represented in the Morgan's collections.
Credits:
This online exhibition is presented in conjunction with the exhibition William Blake's World: "A New Heaven Is Begun" on view September 11, 2009, through January 3, 2010.
This exhibition is made possible through the generosity of Fay and Geoffrey Elliott.