Histoire de Babar, le petit éléphant (The Story of Babar), Maquette, pp. 36–37
8 1/4 x 6 1/2 inches (21 x 16 cm)
Gift of Laurent, Mathieu, and Thierry de Brunhoff, and purchased with the assistance of The Florence Gould Foundation and the Acquisitions Fund, Fellows Endowment Fund, Gordon N. Ray Fund, and Heineman Fund, 2004
Item description:
This digital facsimile presents every page of a small, delicate maquette that Jean de Brunhoff created in 1930 or 1931 as he drafted the first book in the Babar series. The maquette, an extraordinary handmade booklet complete with cover and endpapers, text and illustrations, is the prototype for Histoire de Babar, le petit éléphant.
The maquette is written on Johannot et Cie Annonay paper cut down to a page size of 8 1/8 x 6 1/8 inches (20.5 x 15.5 cm) and folded to approximate a book. In some cases de Brunhoff wrote on separate sheets and then pasted them into the maquette, obscuring earlier drafts he had made on the versos. Written and illustrated primarily in graphite, the maquette includes a few watercolor touches and a cover colored in green, yellow, and red crayon. On separate sheets of paper of the same type and size, de Brunhoff also made eleven pages of notes on color choices for his final illustrations.
After he completed the maquette, de Brunhoff returned to his sketchbooks and made significant changes that are reflected in the published book. He continued to revise the text, added a page showing Babar studying with a learned tutor, and, most importantly, subjected the opening and closing of the story to a major overhaul. The maquette opens with the death of Babar's mother; however, de Brunhoff ultimately decided to add a tender three-page opening sequence showing the infant Babar in a hammock and a group of young elephants playing. And while the maquette concludes abruptly with the marriage and coronation of Babar and Celeste, the published book ends with the newly married couple reflecting on their good fortune before taking off for their honeymoon in a yellow balloon.
Transcription:
Le roi Babar I et la reine Céleste tels qu'ils étaient le jour de leur couronnement. Ici finit l'histoire de Babar le petit éléphant, mais vous pourrez savoir ce qu'il devient en lisant l'histoire du roi Babar.
Translation:
King Babar I and Queen Celeste as they looked the day of their coronation. Here ends the story of Babar the little elephant, but you can find out what happens to him if you read the story of Babar the King.
Published version: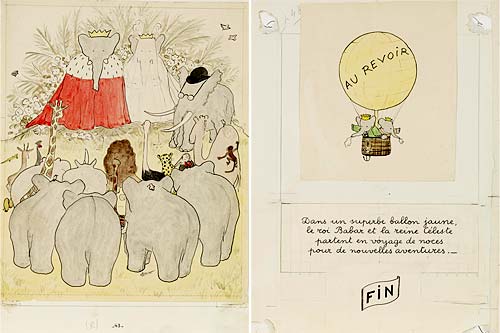 Dans un superbe ballon jaune, le roi Babar et la reine Céleste partent en voyage de noces pour de nouvelles aventures.
In a gorgeous yellow balloon, King Babar and Queen Celeste set out on their honeymoon for further adventures.