Histoire de Babar, le petit éléphant (The Story of Babar), Maquette, pp. 26-27
8 1/4 x 6 1/2 inches (21 x 16 cm)
Gift of Laurent, Mathieu, and Thierry de Brunhoff, and purchased with the assistance of The Florence Gould Foundation and the Acquisitions Fund, Fellows Endowment Fund, Gordon N. Ray Fund, and Heineman Fund, 2004
Item description:
This digital facsimile presents every page of a small, delicate maquette that Jean de Brunhoff created in 1930 or 1931 as he drafted the first book in the Babar series. The maquette, an extraordinary handmade booklet complete with cover and endpapers, text and illustrations, is the prototype for Histoire de Babar, le petit éléphant.
The maquette is written on Johannot et Cie Annonay paper cut down to a page size of 8 1/8 x 6 1/8 inches (20.5 x 15.5 cm) and folded to approximate a book. In some cases de Brunhoff wrote on separate sheets and then pasted them into the maquette, obscuring earlier drafts he had made on the versos. Written and illustrated primarily in graphite, the maquette includes a few watercolor touches and a cover colored in green, yellow, and red crayon. On separate sheets of paper of the same type and size, de Brunhoff also made eleven pages of notes on color choices for his final illustrations.
After he completed the maquette, de Brunhoff returned to his sketchbooks and made significant changes that are reflected in the published book. He continued to revise the text, added a page showing Babar studying with a learned tutor, and, most importantly, subjected the opening and closing of the story to a major overhaul. The maquette opens with the death of Babar's mother; however, de Brunhoff ultimately decided to add a tender three-page opening sequence showing the infant Babar in a hammock and a group of young elephants playing. And while the maquette concludes abruptly with the marriage and coronation of Babar and Celeste, the published book ends with the newly married couple reflecting on their good fortune before taking off for their honeymoon in a yellow balloon.
Transcription:
Babar va dire au revoir à la vieille dame, l'embrasse et lui donne sa photo avec sa signature. / Babar fait sa malle. La vieille dame lui apporte des gâteaux pour le voyage et l'aide à fermer sa malle. Elle est très triste.
Translation:
Babar goes to say good-bye to the Old Lady, kisses her, and gives her his signed photograph. / Babar packs his trunk. The Old Lady brings him some cookies for the trip and helps him close his trunk. She is very sad.
Published version: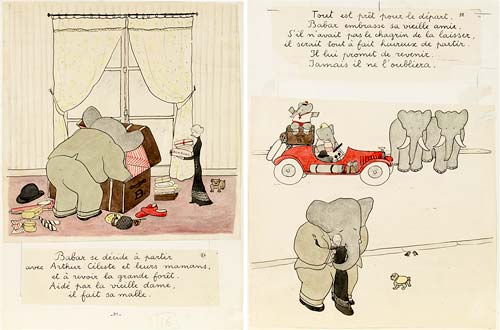 Babar se décide à partir avec Arthur, Céleste et leurs mamans, et à revoir la grande forêt. Aidé par la vieille dame, il fait sa malle. / Tout est prêt pour le départ. Babar embrasse sa vieille amie. S'il n'avait pas le chagrin de la laisser, il serait tout à fait heureux de partir. Il lui promet de revenir. Jamais il ne l'oubliera.
Babar makes up his mind to go back with Arthur and Celeste and their mothers to see the great forest again. The Old Lady helps him to pack his trunk. / Everything is ready for their departure. Babar kisses his old friend. He would be quite happy to go if it were not for leaving her. He promises to come back some day. He will never forget her.