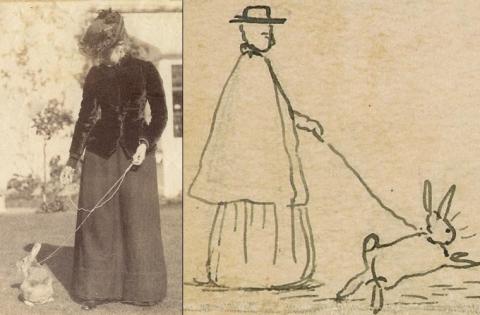 The original ideas for many of Beatrix Potter's stories can be found in the manuscript picture letters she wrote to children of friends and family members. Perhaps the most famous example is The Tale of Peter Rabbit, which began as an eight-page letter to Noel Moore, the five-year-old son of her former governess, Annie Moore. With Annie Moore's encouragement Potter borrowed back the letter, copied it out, and revised it for publication. At least six publishers rejected the book, but it was a huge success when the first trade edition finally appeared in 1902. The Tale of Squirrel Nutkin (1903), The Tale of Mr. Jeremy Fisher (1906), and other books in the Peter Rabbit series were based in whole or in part on her picture letters. In her opinion this was the secret of her success.
Her books retain the simple joy, subtle wit, and playful immediacy of impromptu private letters written for "real children" on subjects drawn from day-to-day experience with no commercial constraints and no thought of publication. Shown here are the twelve picture letters in the Morgan's collection. Eleven were addressed to Noel Moore, one to his younger sister Marjorie. Here one can see the earliest known picture letter along with later examples containing fanciful illustrations, comical vignettes, and narrative experiments that prefigure Peter Rabbit and other masterpieces of children's literature.
This online exhibition was created in conjunction with the exhibition Beatrix Potter: The Picture Letters, on view November 2, 2012, through January 27, 2013, organized by John Bidwell, Astor Curator of Printed Books and Bindings.
The exhibition is underwritten by Barbara and James Runde, and by Susan and Peter Solomon and Peter J. Solomon Company, L. P. Major funding is provided by Barbara Hanson Pierce, Michael Francis Hanson, and Robert Hixon Hanson in memory of their mother, Margaret Hixon Hanson. Further generous support is provided by The Caroline Macomber Fund, Rudy and Sara Ruggles, Justin G. Schiller, Ltd., and The Frelinghuysen Foundation.

Sponsored by Penguin Group (USA) Inc.