Submitted by

John Marciari

on Mon, 03/23/2020 - 6:30pm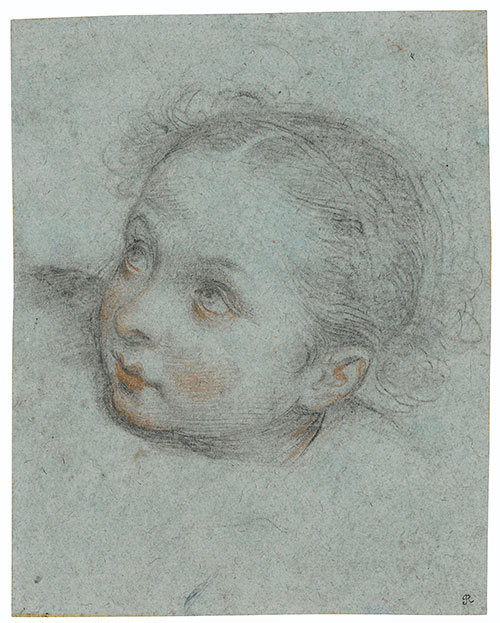 The most recent acquisition by the Morgan's Department of Drawings and Prints is a Head of a Girl dating to around 1590 by Denys Calvaert, purchased at Christie's old master drawing auction in late January 2020. Because we have no immediate plans to exhibit the drawing, a blog post seems a good way to talk about Calvaert, the Head of a Girl, and why the drawing is a welcome addition to the Morgan's collection.

Denys Calvaert was born in Antwerp, in the Netherlands, around 1540. He received an artistic education there under the little-known landscape painter Cerstain van Queckborne, and in 1556, Calvaert joined the painter's guild. By the 1560s, however, he was in Italy. Rome was by then the center of the international art world, and many Northern artists made the trip South, to study the best of ancient and modern art and to experience the wonders of the Alps. What is surprising about Calvaert, however, is that he settled in Bologna rather than Rome, and that he remained there for the rest of his life apart from short trips to other cities in Italy. Not long after he arrived, Calvaert was recorded as working with the Bolognese artists Prospero Fontana and Lorenzo Sabatini.

In 1572, the Bolognese cardinal Ugo Boncompagni became Pope Gregory XIII. Following a typical pattern in papal patronage, he summoned Bolognese artists to Rome to take up work in the Vatican and elsewhere (here's an article I wrote a while ago about the subject). Calvaert accompanied Sabatini to the Eternal City, and while assisting the latter, he also made an extensive study of Roman painting, including the works of Raphael and Michelangelo. Calvaert's work began to evolve beyond the Mannerist models of his teachers and to incorporate many new influences. Returning to Bologna in 1575, Calvaert set up an academy to train young artists using this new approach. He is said to have had more than 100 pupils, and in the years around 1590, his students included Guido Reni, Francesco Albani, and Domenichino, who would all eventually move to the famous Carracci academy, and who would all subsequently achieve fame on their own. Nonetheless, the lessons that Calvaert would have instilled in them—of life study, and of a delicate chalk drawing style as seen in the present work—were important ones that would be manifest in their later work. The fundamentally eclectic approach adopted by the Carracci academy, of borrowing aspects from the styles of various masters (composition from one, color from another, and so forth) was also akin to that used by Calvaert, and in the late 1580s and early 1590s, all of these artists began to fall under the sway of Federico Barocci's dramatic, naturalist style; they seem even to have been aware of his new drawing practices, using colored chalk head studies like this and this as part of the preparatory process of his paintings. (Here's another old article of mine, on Barocci's pastel and colored chalk drawings.)

While compositional drawings and figure studies by Calvaert are not uncommon, his detailed head studies in colored chalks are relatively rare, and the Head of a Girl is the first in the Morgan's collection. The drawing relates to that of an angel at right in Calvaert's Rest on the Flight into Egypt in Warsaw, one of many small, precious paintings on copper that Calvaert and his workshop produced, many of which were sent to markets at home in the Netherlands. (A second version of the painting is in Edinburgh.) The figure also appears in a compositional drawing at the Albertina, but in looking at that drawing, it is clear how the head study on blue paper was a key element in working out detail in the final work.
   
Calvaert falls through the cracks of art history. He was a northerner who worked in Italy, and his career took place largely in the time between the death of the great Renaissance master Michelangelo and the emergence of the Baroque style of the Carracci and Caravaggio. His drawings, accordingly, have not always been avidly collected, but especially when considered alongside similar works by Barocci, Federico Zuccaro, and others already at the Morgan, this sheet helps tell the story of the developing naturalism and rebirth of life study in late sixteenth-century Italy. It also fits with works by those artists with regard to the technical innovation of multi-colored chalk drawings, and it draws a link between them and works of the next generation, for example drawings by Calvaert's former pupil Guido Reni. The Head of a Girl is a beautiful drawing, appealing enough to stand on its own as an acquisition, but in a collection like the Morgan's, rich enough to aspire to a complete account of drawing practices among the painters active in Renaissance and Baroque Italy, the work is even more interesting when placed in context.
John Marciari
Charles W. Engelhard Curator and Department Head
Drawings and Prints
The Morgan Library & Museum