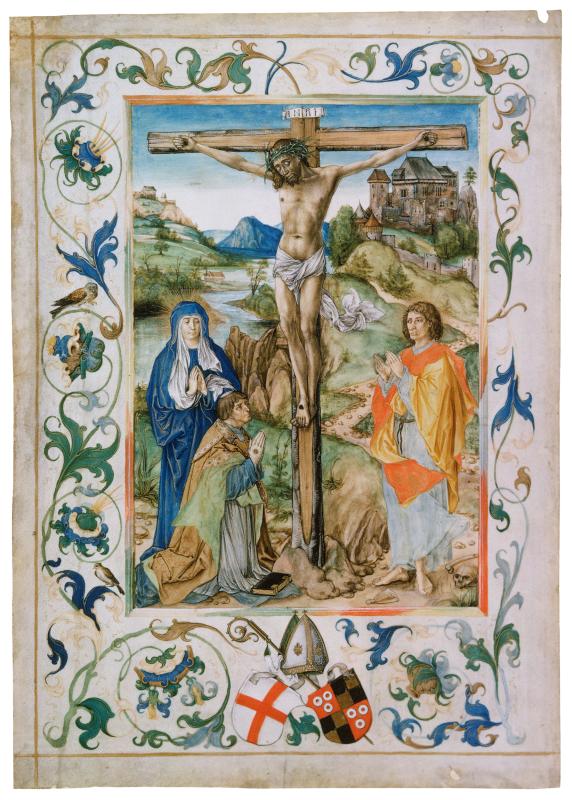 Created:
Constance, Germany, ca. 1510.
Credit:
Purchased as the gift of the Fellows, with the special assistance of four members of the Board of Trustees, Mrs. Gordon S. Rentschler, and Mrs. G.P. Van de Bovenkmap (Sue Erpf Van de Bovenkamp) in memory of Armand G. Erpf, 1973.
Description:
1 single leaf : vellum, ill. ; 407 x 289 mm
Provenance:
Hugo von Hohenlandenberg (1460-1532), bishop of Constance (1496-1529, 1531-1532), who commissioned the four-volume missal; volume 1 was sold in Geneva in 1832, and was dismembered; eleven of its leaves are privately owned, but some of them are on loan to the Rosgarten Museum in Constance. The other three volumes, all intact except for a few excised leaves, have been in the Erzbischöfliches Archiv, Friburg im Breisgau since 1928 (Da 42 2, Da 42 3, and Da 42 4). The leaf that is now identified as Pierpont Morgan Library. MS M.955 made its way to England, where it was part of Alfred Morrison's (1821-1897) collection; then it descended to Lord Margadale of Islay, F.D., who sold it in London, Christie's, Mar. 20, 1973, lot 115; the present location of the Te igitur initial which originally faced the Crucifixion is unknown.
Notes:
Ms. missal leaf with the Canon of the Mass illustration; written and illuminated in Constance, Germany, ca. 1500.
Decoration: 1 full-page miniature with floral border containing a coat-of-arms: Crucifixion in a landscape with Mary, John, and the donor, Bishop Hugo von Hohenlandenberg (1460-1532), kneeling at the foot of the cross. The miniature has been attributed to Springinklee der Ältere, the postulated father of the illuminator Hans Springinklee (see Merkl 1999, p. 361).
Before the discovery of this Crucifixion, all that had been known of the first volume of Bishop Hugo's four-volume Missal, from which this leaf comes, were eleven historiated initials, now privately owned. The volume became separated from the three others (now in Freiburg), was sold in Geneva in 1832, and broken up. The Crucifixion, which served as an illustration for the Canon of the Mass, has been attributed to Springinklee the Elder, a Nuremberg artist who settled in Constance, where he was active about 1500–1510. He was obviously influenced by Albrecht Dürer, whose paintings and watercolors are recalled by the transparent and luminous quality of the colors found in the drapery and landscape. The portrait of Bishop Hugo, kneeling at the foot of the cross, is similar to the 1502 portrait by a Bodensee artist now in Karlsruhe, and the castle on the hill suggests Meersburg, a residence of the bishops of Constance and Hugo's burial place.