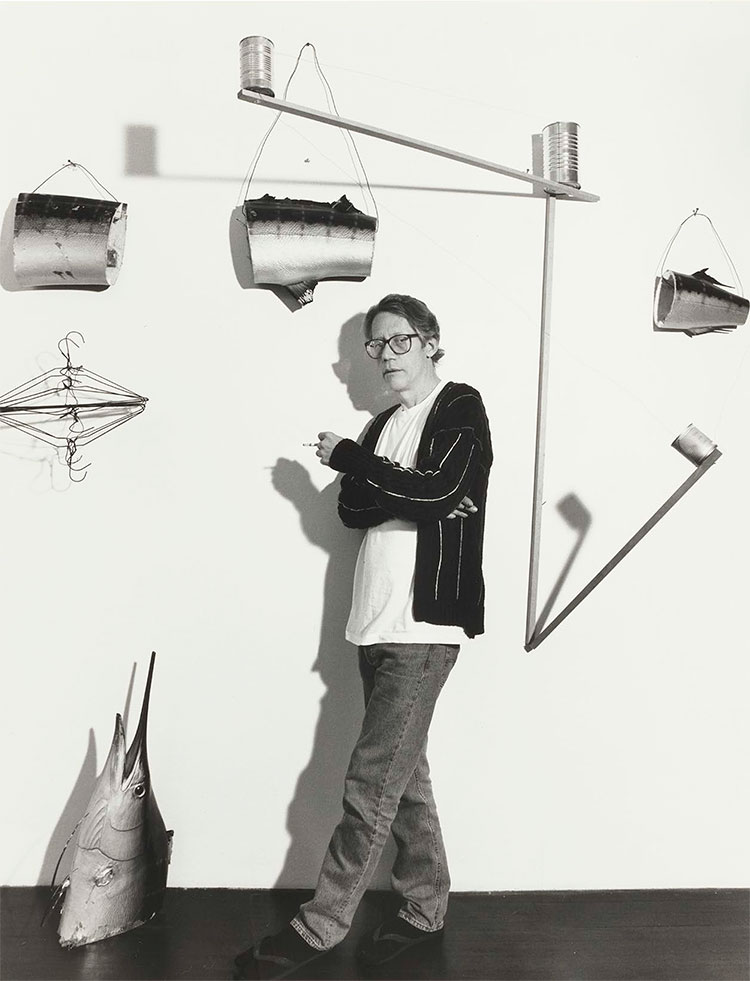 Al Taylor in his East Nineteenth Street studio, New York, September 1993. Photography by David Britton. Estate of Al Taylor archives.
1948
Born in Springfield, Missouri. Grows up in Wichita, Kansas.
1966–70
Studies at the Kansas City Art Institute; graduates with degrees in painting and printmaking.
1970
Moves to New York City. Takes day jobs as a truck driver and an art handler.
Throughout the 1970s and early 1980s, creates abstract, geometric paintings.
1975–82
Works as Robert Rauschenberg's studio assistant. Develops close friendships with many artists, including Brice Marden, James Rosenquist, and Cy Twombly.
1980
Five-week trip to Africa (Uganda, Kenya, and Senegal) profoundly alters his thoughts about art, affecting his approach to materials and use of humor in his work.
1984
Designs sets for dance performances, which leads him to construct three-dimensional work. Creates his last paintings.
1986
First solo exhibition, at Alfred Kren Gallery, New York, includes sculptures and drawings.
1987
First trip to Hawaii, which will become an important source of inspiration.
1988
First published series of etchings initiates regular printmaking until 1997.
1990
Experiments with using photocopy toner to make drawings.
1991
Munich art dealer Fred Jahn buys sixty-eight drawings. His support allows Taylor to quit his day jobs and concentrate on his art.
Throughout the 1990s, exhibits regularly in galleries, in New York as well as in Germany, Denmark, and Switzerland.
1992
First solo museum exhibition, at the Kunsthalle Bern, Switzerland.
1998
One-month trip to Hawaii, to celebrate his fiftieth birthday, inspires new series of drawings and sculptures.
1999
Dies of lung cancer on 31 March. An exhibition of his work takes place in the summer at the Kunstmuseum in Lucerne, Switzerland.