1862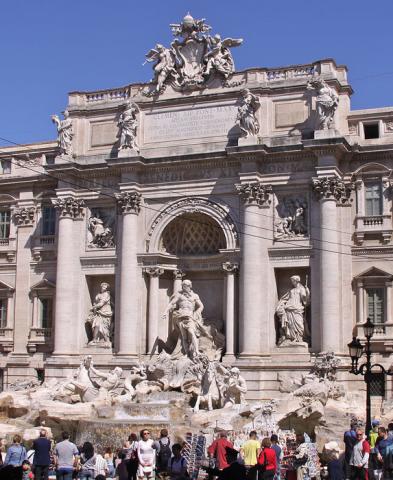 2010
They and the rest of the party descended some steps to the water's brim, and, after a sip or two, stood gazing at the absurd design of the fountain, where some sculptor of Bernini's school had gone absolutely mad in marble. It was a great palace-front, with niches and many bas-reliefs, out of which looked Agrippa's legendary virgin, and several of the allegoric sisterhood; while, at the base, appeared Neptune, with his floundering steeds and Tritons blowing their horns about him, and twenty other artificial fantasies, which the calm moonlight soothed into better taste than was native to them. And, after all, it was as magnificent a piece of work as ever human skill contrived. At the foot of the palatial façade was strown, with careful art and ordered irregularity, a broad and broken heap of massive rock, looking as if it might have lain there since the deluge. Over a central precipice fell the water, in a semicircular cascade; and from a hundred crevices, on all sides, snowy jets gushed up, and streams spouted out of the mouths and nostrils of stone monsters, and fell in glistening drops; while other rivulets, that had run wild, came leaping from one rude step to another, over stones that were mossy, slimy, and green with sedge, because in a century of their wild play, Nature had adopted the Fountain of Trevi, with all its elaborate devices, for her own.
—Nathaniel Hawthorne, The Marble Faun, I, 160–161
Constructed in the eighteenth century, the Trevi Fountain celebrates the arrival within the city of the waters of an ancient aqueduct. Anderson's photograph isolates the center of the fountain, where a profusion of sculpture is displayed against an architectural backdrop recalling a triumphal arch. The central figure represents Oceanus, lord of water in all its forms, issuing from his palatial abode in a shell chariot pulled by sea horses. The Trevi became a tourist attraction only late in the nineteenth century when guidebooks encouraged the practice of tossing coins into the basin to ensure one's return to Rome.
James Anderson, The Trevi Fountain, ca. 1862. Collection W. Bruce and Delaney H. Lundberg. Photography by Graham S. Haber
Location photography by John Pinto