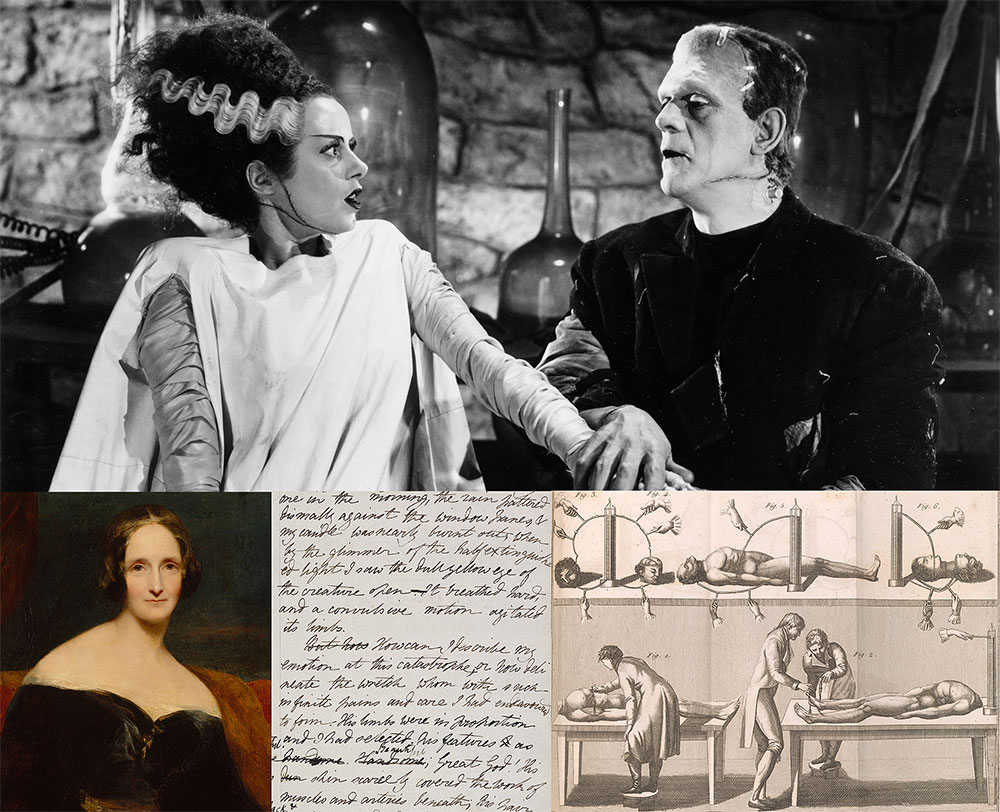 Mary Shelley's Frankenstein; or, The Modern Prometheus is one of literature's most iconic texts. Written by a teenager over the course of ten months some 200 years ago, the novel continues to grip the imagination and provoke ever-relevant discussion about the definitions of humanity and monstrosity.  

This curriculum is intended to complement the exhibition It's Alive! Frankenstein at 200. An investigation of Shelley's novel and its legacy, the curriculum is divided into four thematic sections. Section One explores the novel's historical context, examining the Gothic and Romantic movements as well as the eighteenth- and early nineteenth-century science that inspired Mary Shelley. Section Two provides a look at Shelley's unconventional personal life, introducing her famous cast of family and friends, while Section Three investigates the process by which Mary Shelley composed and edited the novel. Section Four explores the innumerable adaptations of the book for stage, screen, and beyond.
Each resource section includes:
Condensed catalogue essays
Objects with discussion and activity prompts to facilitate open-ended exploration
High quality images
Vocabulary definitions
A listing of supplemental resources that include books, films, a timeline and family tree, biographies, and additional online resources
These curriculum materials, recommended for grades 9–12, are provided to educators for use both during school visits to the Morgan, in the classroom, and are available after the exhibition closes. You may download PDFs of the entire section or search for a specific curriculum area.
Explore these concepts and more in our interactive PDF.
It's Alive! Frankenstein at 200 online curriculum is made possible through the generosity of the Carnegie Corporation of New York.
TOP: Roman Freulich, Elsa Lanchester and Boris Karloff in The Bride of Frankenstein, (1935), 1935, Photograph, Core Collection Production Files, Margaret Herrick Library, Academy of Motion Picture Arts and Sciences, Courtesy of Universal Studios Licensing LLC, © 1935 Universal Pictures Company, Inc.; LEFT: Richard Rothwell (1800–1868), Portrait of Mary Wollstonecraft Shelley, painted 1831, exhibited 1840, oil on canvas. © National Portrait Gallery, London.; CENTER: Mary Wollstonecraft Shelley (1797-1851), Frankenstein: It was on a dreary night in November 1816-1817, Pen on paper, The Bodleian Libraries, The University of Oxford, MS Abinger c. 56, fols. 20v, 21r; RIGHT: Benoît Pecheux (1779–1831), plate no. 4, etching and engraving, in Giovanni Aldini (1762–1834), Essai théorique et expérimental sur le galvanisme, avec une série d'expériences faites en présence des commissaires de l'Institut national de France, et en divers amphithéatres anatomiques de Londres, Paris: De l'imprimerie de Fournier fils, 1804. The Morgan Library & Museum, purchased on the Gordon N. Ray Fund, 2016, PML 196238.