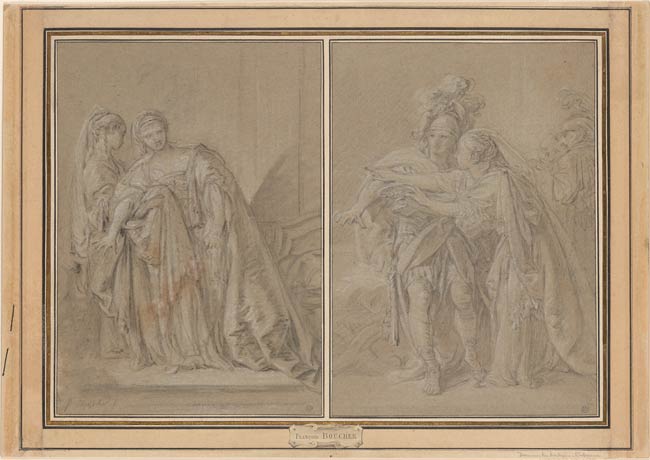 Rodogune (Act V, Scene IV)
Black and white chalk on blue-gray paper.
Two sheets on a mount by Jean-Baptiste Glomy (d. 1786): 11 7/8 x 8 7/16 inches (301 x 214 mm); 11 15/16 x 8 7/16 inches (302 x 214 mm)
Inscription:
The left drawing is inscribed at lower left, "f. Boucher f".
Provenance:
Jan Baptist de Graaf (1742-1804), Amsterdam (Lugt 1120); his sale, Amsterdam, 14 February 1820; Emile Wauters (b. 1846), Paris (Lugt 911); his sale, Amsterdam, 15-16 June, 1926, no. 28; Arnold Seligmann, Rey & Co., New York, 1927 ($1,000).
Bibliography:
Alexandre Ananoff, with the collaboration of Daniel Wildenstein, "François Boucher", 2 vols., Lausanne and Paris, 1976, I, p. 88, figs. 128 and 129 (as collection E. Wauters).
Denison, Cara D. French Drawings, 1550-1825. New York : Pierpont Morgan Library, 1984, no. 115.
Denison, Cara D. French Master Drawings in the Pierpont Morgan Library. New York : Pierpont Morgan Library, 1993, under no. 55.
Denison, Cara D., with Stephanie Wiles and Ruth S. Kraemer. Fantasy and Reality : Drawings from the Sunny Crawford von Bü̈low Collection. New York : Pierpont Morgan Library, 1995, under no. 6, fig. 1, repr.
Portalis 1877, II, p. 522; Lees 1913, pp. 150-151, figs. 171 and 172; Gusman 1926 pp. 26, 27; PML 1930, pp. 41, 110; Grigaut 1948 p. 269 n.1, fig. 3; Paris 1971, p. 92 under no. 95; Ananoff and Wildenstein 1976, I, p. 88, figs. 128 and 129 (as in the collection of E. Wauters); Jean-Richard 1978, p. 364 under no. 1514; Slatkin 1979 p. 119; Baltimore and elsewhere 1984-85, p. 128 under no. 37; New York and Paris 1993-94, p. 126 under no. 55; New York PML 1995-96, p. 20 under no. 6, fig. 1; Cambridge and elsewhere 1998-2000, p. 232 under no. 62, figs. 1 & 2, p. 372 n. 4; Versailles and elsewhere 2002-2003, p. 236 under no. 87.
Notes:
Watermark: none visible through mount.
Summary:
This drawing was executed in 1759 at the order of Mme. de Pompadour, who engraved it as a frontispiece for the 1760 edition of Corneille's drama Rodogune. From the appearance of the engraving however, it is evident that Boucher helped her extensively with the engraving which was eventually retouched by C. N. Cochin fils (Victor Carlson, Regency to Empire, 1984-1985, p. 128). According to Grigaut, only twenty copies were printed of this Versailles edition (p. 263). These two drawings are preliminary studies for the illustration of Scene IV, Act V, of the tragic story of Rodogune, Princess of Parthia, and Cleopatra, Queen of Syria, Corneille's favorite play. On the left, the composition represents Cleopatra, attended by her lady-in-waiting Laonice; the right depicts Rodogune and Antiochus, son of Cleopatra and heir to the throne of Syria. The scene shown is the moment when Rodogune points to the guilty queen who in self-loathing lifts the poisoned goblet to her lips and drinks the wine. ["Seigneur voyez ses yeux / déjà tous [sic] égarés, troubles, et furieux"].
Curatorial remarks by Cara Dufour Denison.
Associated names:
Glomy, Jean-Baptiste.
Graaf, Jan Baptist de, 1742-1804, former owner.
Wauters, Emile, 1846-1933, former owner.
Corneille, Pierre, 1606-1684. Rodogune.