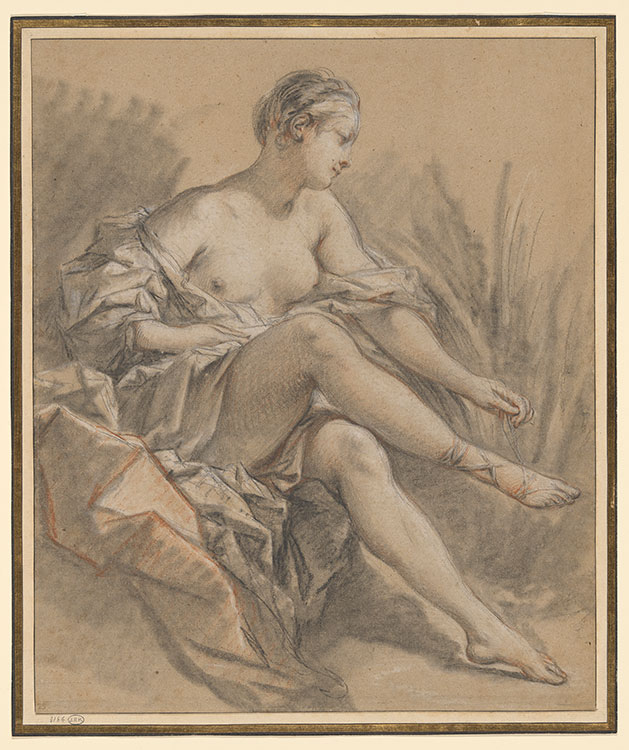 Study for the Figure of Diana
Black, red, and white chalk, with stumping, on light brown paper.
11 15/16 x 18 3/8 inches (303 x 467 mm)
Purchased on the Fairfax Murray Society Fund, with additional contributions from Marian and Russell Burke and from the E.J. Rousuck Fund.
Provenance:
Sir Thomas Lawrence (1769-1830), London (L. 2445); Johan Christian Nieuwenhuys (1799-1883), London (according to André Michel); John Postle Heseltine (1883-1929), London (L. 1507); Mary Benjamin Rogers (1879-1955), New York; with E. Gimpel & Wildenstein, New York; with Kennedy Galleries, New York; Millicent Rogers (1902-1953), New York; private collection, New York; at Christie's, New York, 26 January 2023, lot 45.
Bibliography:
A. Michel, François Boucher, Paris, 1886, no. 491. J.P. Heseltine, Drawings by François Boucher, Jean Honoré Fragonard and Antoine Watteau in the Collection of J.P.H., London, 1900, no. 18. London, National Loan Exhibition, A Catalogue of the Pictures and Drawings in the National Loan Exhibition, 1909-1910, no. 73. J.P. Heseltine, Dessins de L'ecole française du dix-huitième siècle provenant de la collection Heseltine, Paris, 1913, no. 6, ill. A. Ananoff, L'Œuvre dessiné de François Boucher (1703-1770). Catalogue raisonné, I, Paris, 1966, no. 711, ill. Washington, National Gallery of Art and elsewhere, François Boucher in North American Collections. 100 Drawings, 1973-74, no. 47, ill. (catalogue by R.S. Slatkin). A. Ananoff and D. Wildenstein, François Boucher, I, Paris, 1976, no. 279/2, fig. 824. François Boucher, 1703-1770, exhib. cat., New York, The Metropolitan Museum of Art, Detroit, Detroit Institute of Arts, and Paris, Grand Palais, 1986-87, p. 221, under no. 50, drawings 1 (entry by A. Laing). T. Burollet, Musée Cognacq-Jay, Peintures et Dessins, Paris, 1980, p. 50, under no. 11. T. Burollet, Musée Cognacq-Jay, Les Collections. Les Peintures, Paris, 2004, p. 57, under no. 13.
Summary:
The figure of Diana seen in this drawing was first devised by Boucher for Le fleuve Scamandre (fig. 1), a print designed by Boucher but etched and engraved by Nicolas de Larmessin III for the Suites d'Estampes Nouvelles pour les Contes de La Fontaine, a new edition published in 1743 of the fables of Jean de la Fontaine, with etchings and engravings by Aveline, Sornique, Filloeuil, Larmessin, Tardieu, and Legrand after Lorrain, Lemesle, Pater, Lancret, Boucher, LeClerc, Vleughels, and Eisen. Boucher then reused the figure in his painting of Diana after the hunt dated 1745 (fig. 2), now at the Musée Cognacq-Jay, Paris, inv. J.10 (fig. 1; see Ananoff, op. cit., 1976, I, no. 279, ill.; and A. Laing in exhib. cat. New York, Detroit, and Paris, op. cit., no. 49, ill.). Given the closer correspondences between the drawing and the figure in the painting (rather than that in the related earlier print), it seems likely that Boucher made this study as he revised and amplified the composition for the painting. The drawing is a true preparatory study, lightly sketched in black chalk, then worked up in the trois crayons technique of black, red, and white chalk, carefully hatched and blended together. The use of the stump is particularly notable, not only for blending the black chalk in the shadowed parts of the figure, but especially for the way in which Boucher drew with the stump itself to evoke the reeds and rocks of the figure's setting. The related painting was made as an overdoor, part of a set of four that was separated in two pairs at the beginning of the 19th Century. According to Alexandre Ananoff, they were made for the castle known as Les Folies de Chartres, property of Louis Philippe, Duke of Chartres, who later named himself Philippe Egalité. The Diana after the hunt (also known as The Return from the Hunt ) was paired with The Pastoral Confidences, now in the Los Angeles County Museum of Art (inv. 47.29.17), while Spring (The Pastoral Make-up) and Autumn (Erigone Conquered) are both in the Wallace Collection, London (inv. P445, P447; see Ananoff, op. cit., 1976, I, nos. 280, 281, 282, ill.; and Laing in exhib. cat. New York, Detroit, and Paris, op. cit., no. 50, ill.) The four paintings were engraved by Claude Duflos the Younger in 1751 (P. Jean-Richard, L'Œuvre gravé de François Boucher dans la Collection Edmond de Rothschild, Paris, 1987, nos. 917-922, ill.). After having been in the celebrated collection of Thomas Lawrence, this elegant yet powerfully drawn nude belonged to John Postle Heseltine, a London stockbroker, engraver, and above all a great collector of drawings. His collection, counting no less than six hundred sheets, included eighteen drawings by Boucher, among which the famous Study of Louise O'Murphy (sold Christie's, New York, 25 January 2007, lot 73), the mistress of Louis XV, related to the painting of the Blonde Odalisque in the Alte Pinakothek, Munich (inv. 1166; see Laing in exhib. cat. New York, Detroit, and Paris, op. cit., no. 61, ill.), as well as a Study of a seated nude woman (sold Christie's, London, 5 July 2022, lot 48), related to the figure of Venus emerging from her bath in a painting at the National Gallery of Art in Washington (inv. 1943.7.2; see R. Rand in French Paintings of the Fifteenth through the Eighteenth Century, Washington, 2009, no. 3, ill.).
Associated names:
Nieuwenhuys, Johan Christian, former owner.
Heseltine, John Postle, former owner.
Rogers, Mary Benjamin, former owner.