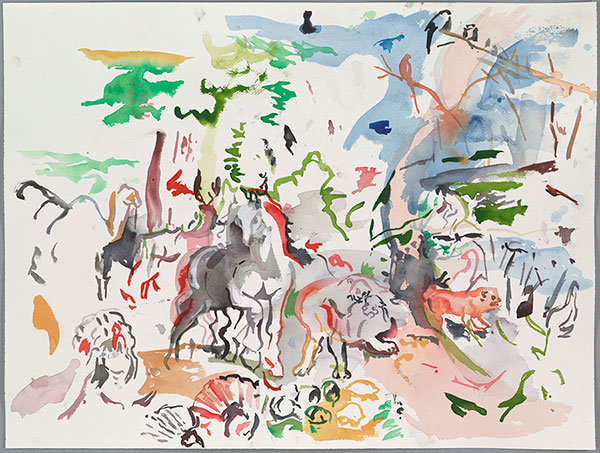 Paradise (Fighting Lions)
Watercolor and opaque watercolor.
18 3/32 x 24 inches (45.9 x 61 cm)
Gift of the Modern and Contemporary Collectors Committee, 2016.
Notes:
This drawing is partly inspired by a 1613 watercolor by Flemish artist Jacob Hoefnagel in the Morgan's collection. Cecily Brown achieved international recognition in the late 1990s for her semi-abstract, expressionistic paintings, whose sources ranged from old masters to pornographic imagery. Her vibrant compositions are characterized by a luscious and energetic paint handling. Although Brown's drawings are lesser-known (she tends to keep them in the privacy of the studio), they are an essential part of her practice and display the same tension between figuration and abstraction as her paintings. This watercolor exemplifies the swiftness and fluidity of her line, with which she imparts a lively sense of movement to the entire composition.