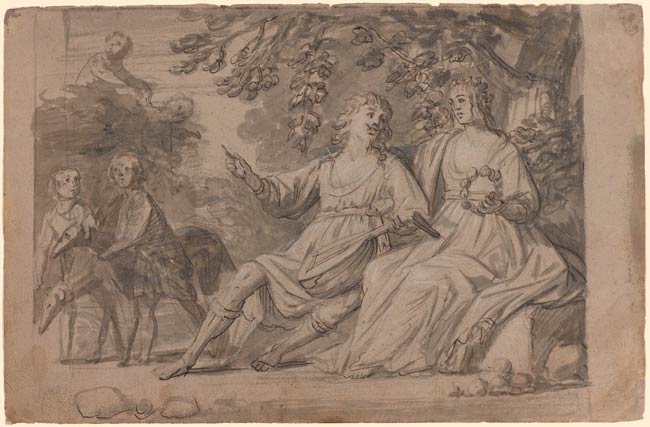 Pastoral scene of a man and a woman, presumed portraits of Frederick V and Elizabeth Stuart of Bohemia. Verso: Portrait of a young man with a woman tying a sash on his arm, and a putto attaching his sword
Black chalk, pen and brown ink, black wash, and white chalk, on gray-brown paper; contours indented for transfer. Verso: black chalk, pen and brown ink, incised lines.
10 x 15 1/2 inches (242 x 388 mm)
Partial Promised Gift of the Baymeath Art Trust and partial purchase on the Ryskamp, Seligman, and William Karatz and Joan Smith Endowment Fund.
Provenance:
Belgian private collection, since ca. 1900 to 2014; Nicolas Schwed [Saint Honoré Art Consulting], Paris, from whom acquired.
Notes:
Depicting a man playing a lute and a woman with flowers in her hair and holding a wreath of flowers, accompanied by children and dogs, this drawing's composition resembles a series of historiated, pastoral portraits (i.e. portraits of famous sitters in the guise of pastoral subjects including shepherds, nymphs, goddesses, etc.) that Honthorst painted around the year 1630. The genre was perhaps inspired by works such as Van Dyck's Sir George Villiers and Lady Katherine Manners as Adonis and Venus (ca. 1620, Koetser Gallery), but Honthorst became its primary practitioner, and the court of Frederick Hendrik and Amalia van Solms in The Hague seems to have been its epicenter. Honthorst was from the beginning of his career interested in the depiction of musicians, a natural outgrowth of his caravaggism, but it has also been suggested that in the context of court culture in The Hague, images of musicians (for example that recently acquired by the National Gallery of Art) could be interpreted as allegories with a message of societal harmony.
The lute-player, with his long hair, elegant mustache, and narrow, pointed beard appears to be Frederick V, King of Bohemia; the woman would thus be his queen, Elizabeth Stuart, the daughter of King James I of England. Known as the Winter King and the Winter Queen because their reign in Bohemia lasted for only one winter (1620/21), the couple resided in exile in The Hague. Honthorst was named the painter to the court-in-exile in 1630, but he had already been their primary painter for several years before that time. The young man who is the primary subject of the drawing on the verso could thus be one of the couple's sons, Frederick Henry (1614-1629) or Charles Louis (1617-1618).
In 1629, Honthorst was commissioned to paint a historiated portrait of Frederick V and Elizabeth Stuart, a work given as a gift to her brother, King Charles I of England. This compositional drawing does not relate directly to the large finished work (today at Marienburg Castle, in the collection of the Hanover princes), but it is perhaps an early scheme for a related painting (lost) that depicted Frederick as a shepherd and Elizabeth as Flora. A number of drawings in the album from which the present work comes have similar relationships to extant paintings (i.e. akin in theme and composition, but without exact correspondence of figures).
The drawing on the verso is akin to the sort of portrait often produced by Honthorst, but it cannot be connected to any known work by him. If made around 1628-29 like the drawing on the recto, it may have been for an intended portrait of the young Prince Frederick Henry, perhaps even made on the eve of the prince's departure to Amsterdam to view the captured Spanish fleet, but such a work would have been abandoned when the prince drowned during that trip