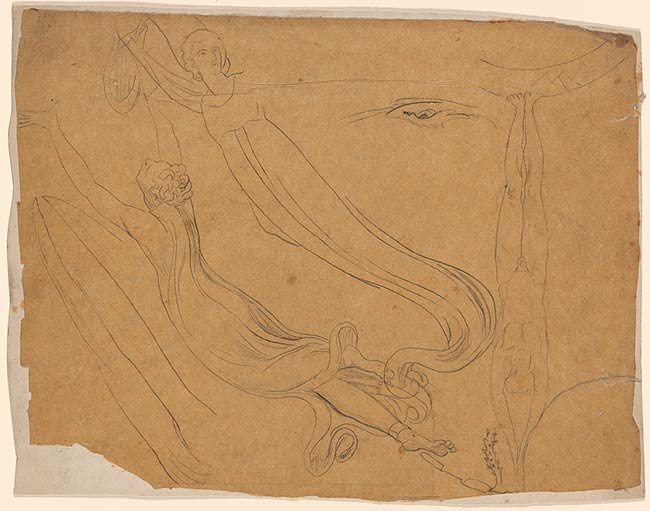 "Oft bursts my song beyond the bounds of life"
Graphite and gray, blue, and red wash, on tracing paper mounted on card.
10 x 12 7/8 inches (265 x 140 mm)
Gift of Mr. Herman Cohen.
Provenance:
Herman Cohen, Sandy Hook, Conn.
Notes:
Copy on tracing paper by an unknown copyist of William Blake's drawing illustrating Night I, page 30 (lines 448-458) of Edward Young's Night thoughts; the original drawing now in the collection of the British Museum.
Summary:
Full length sketch of a figure chained at the ankle as it strives to ascend upwards, with arms raised and and a lyre held in one hand; accompanied by a tracing of another female figure, flying aloft in a trailing garment, and a partial copy of Blake's design for page 36 (lines 688-706) of Night VI of Night thoughts, inverted, showing a detail of a serpent's head and a naked male figure standing with face and arms raised heavenwards.
Associated names:
Cohen, Herman, former owner.
Young, Edward, 1683-1765. Night thoughts.