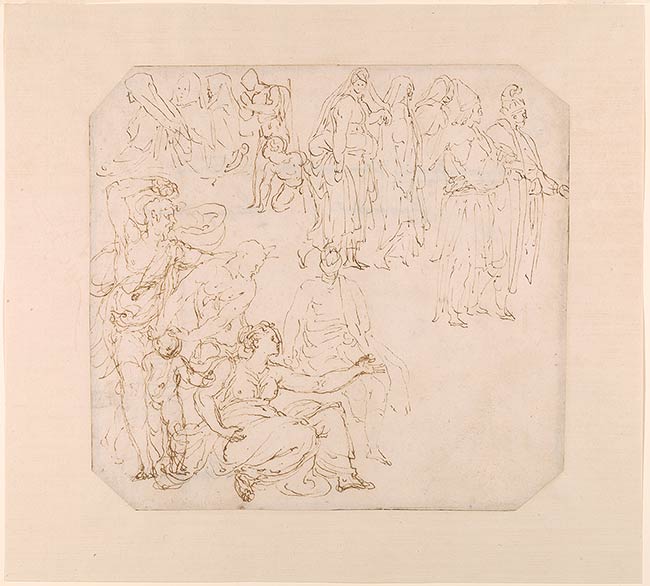 Pen and brown ink on laid paper; corners cut.
7 11/16 x 8 1/8 inches (195 x 207 mm)
Purchased on the Fellows Endowment Fund.
Provenance:
G. Münch (L. 1830); sale, Sotehby's, London, December 8, 192, lot 21, repr.; private collection; Katrin Belinger Kunsthandel, Munich and London, 2012.
Notes:
Perino del Vaga is one of the most inventive, influential and appealing draftsmen of the sixteenth century. A native of Florence, he apprenticed with Ridolfo Ghirlandaio and assiduously studied Michelangelo's Battle at Cascina cartoon -- the "school of the world" according the contemporary biographer Giorgio Vasari -- before joining Raphael's workshop in Rome around 1516. After Raphael's death in 1520 Perino became the preeminent fresco painter in the city. The devastating Sack of Rome in 1527 precipitated his removal to Genoa, where Perino was engaged as court artist to the city's newly proclaimed ruler, the storied sea-faring hero Admiral Andrea Doria. Much of his energy was devoted to the embellishment of the recently erected Palazzo Doria, where Perino -- now head of his own large workshop -- carried out frescoes and stuccowork and designed tapestries, portals, mantelpieces, interior furnishings and ephemeral decorations. After a short sojourn in Pisa he was back in Rome by 1537, eventually becoming court artist to Pope Paul III Farnese in whose service he remained until his death. Perino's inventive, stylized, artificial, and gracefully posturing figures and shallow relief-like compositions evocative of ancient sculpture -- a stylistic idiom he perfected in his drawings -- were widely emulated models that shaped the course of later 16th-century painting until a new more naturalistic mode of painting was championed by the Carracci and Caravaggio.
Executed in Perino's preferred medium, pen and ink, the present work is a characteristic example of this consummate draftsman's most appealing -- and most typical -- type of drawing: a sheet of studies covered with scribbly, fluid, and rapid yet confidently sketched clusters of unrelated figures. The drawing has not been connected with a specific composition but similarly posed and attired figures appear throughout Perino's Genoese frescoes and tapestry designs. Diminutive figures wearing hoods and exotic hats of the type seen here recur in many of the artist's drawings, including examples in the Art Institute of Chicago; the Biblioteca Reale, Turin; and the Getty Museum, Los Angeles. Stylistically, the drawing is particularly close to a double-sided sheet of studies in the Metropolitan Museum dated ca. 1530, and to a drawing in Orléans that is roughly the same size as the present work and also executed in a similar style and technique.