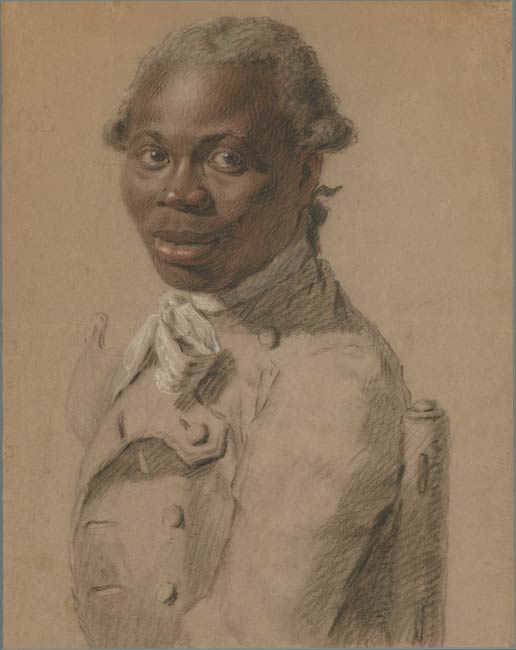 Attributed to Joseph Ducreux
Portrait of a Gentleman (Olaudah Equiano?)
Black, brown and white chalk on gray-blue laid paper.
20 1/2 x 16 1/4 inches (521 x 413 mm)
Estate of Mrs. Vincent Astor.
Notes:
During his fellowship at the New York Public Library's Dorothy and Lewis B. Cullman Center, Michael Vazquez offered a compelling proposal regarding the identity of the sitter in this portrait. He suggested that this gripping image might depict the abolitionist and writer Olaudah Equiano (ca. 1745-1797). Born in what today is southern Nigeria, Equiano was captured and enslaved as a child. He was first taken to the Caribbean and then to the English colony of Virginia, where he was purchased by Michael Henry Pascal, a lieutenant in the Royal Navy. After years of working mostly at sea, Equiano was able to buy his freedom, settling in London in 1766. The record of his life is preserved in an extraordinary autobiography, "The Interesting Narrative of the Life of Olaudah Equiano; or, Gustavus Vassa, the African, Written by Himself," which appeared in 1789. The popular volume not only ran through nine English editions but was also published in the US, the Netherlands, Germany, and Russia. Showing the sitter dressed in civilian clothes and turning towards the viewer, as if getting ready to speak, the work is similar to contemporary portrayals of writers and thinkers and resembles other portraits of Equiano known today.
Joseph Ducreaux, who travelled to London at the outbreak of the French Revolution, might have met and portrayed Equiano there. However, the drawing's attribution to the French painter and nobleman remains uncertain.
Associated names:
Astor, Brooke, former owner.