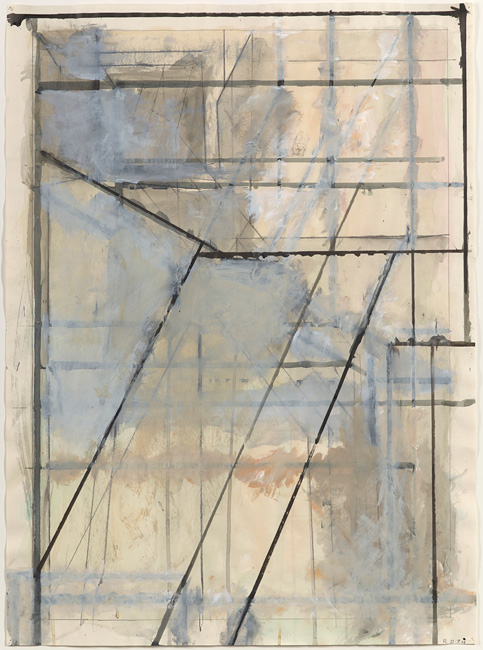 Untitled (Ocean Park Series)
Opaque watercolor, acrylic, and graphite.
28 7/8 x 21 1/8 inches (733 x 537 mm)
Provenance:
Marlborough Gallery, New York (1975); Dr. and Mrs. Sidney Merians (1975); Nathaniel Otis Owings, Sante Fe, N.M. (2006); Eugene and Clare Thaw (2011).
Notes:
Having first established his reputation in the 1940s as an abstract painter, Diebenkorn switched to figuration in the mid-1950s. In 1967, however, after moving to Southern California, where he was drawn to the quality of the light, he embarked in a series of luminous, abstract compositions that would occupy him for the rest of his life. Named Ocean Park after the section of Santa Monica where he kept a studio, the works, such as the present drawing, fuse structural concerns in the geometric arrangement of overlapping planes with lyrical tendencies in the sensuous handling of paint. By integrating the frequent alterations and corrections into the final work, Diebenkorn creates a rich surface that exposes the dichotomy between control and spontaneity at the core of the creative process.