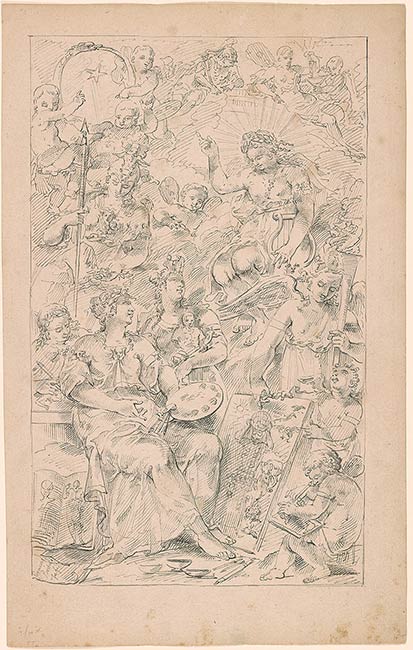 approximately 1670-approximately 1715
Pen and black ink over graphite on paper.
14 3/4 x 9 1/4 inches (361 x 237 mm)
Gift of William M. Voelkle in honor of Cara Dufour Denison.
Inscription:
Signed and inscribed at lower left, "François Boitard / inv. sculpsit".
Provenance:
William M. Voelkle, New York.
Notes:
Watermark: letters CDO.
At the center of this allegorical composition are female figures representing engraving (with a burin poised above a plate), painting (carrying a palette), and sculpture (clutching a torso and chisel), opposite a figure representing music who holds a lyre. The figure of painting, at left, is about to be crowned with a laurel wreath by Minerva, goddess of wisdom and patron of the arts. At right, the female figure bearing a torch, representing love or virtue, points to the painting of a herm surmounted by a figure that combines elements of the many breasted goddess Artemis, who represents fertility, with Atlas, supporting the globe, flanked by a lion, giraffe, and an elephant. In the foreground, a model book rests with its pages open at left, while a putto sketches at right. In the upper register, the ouroboros, or snake eating its own tail, with a shooting star, represents fertility and regeneration. At upper right is a winged female figure crushing grapes into a kylix held by a putto. Boitard included his signature on a sheet of paper in the lower left corner. Although a related print or frontispiece has not been identified, the inscription--Boitard invenit sculpsit--suggests that the artist intended to engrave his invention.
Associated names:
Voelkle, William M., former owner.