Sketches for "Stones: US"
Graphite pencil on paper.
14 x 18 inches (356 x 457 mm)
Gift of the Modern and Contemporary Collectors Committee.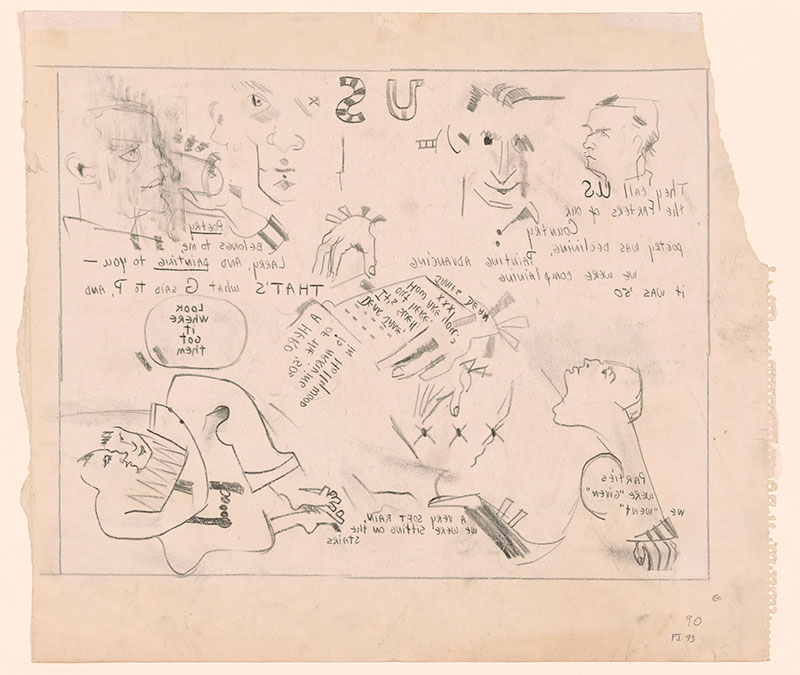 Inscription:
Signed and dated in pencil at lower right: Larry Rivers '57.
Provenance:
Estate of the artist (Tibor de Nagy Gallery, New York).
Notes:
This drawing is the only known preparatory sketch related to Stones, a portfolio of twelve lithographs created jointly by Rivers and O'Hara and published by Tatyana Grosman's Universal Limited Art Editions in 1959. Conceived as a fusion of words and imagery and in a spirit of improvisation, each plate resulted from a dialogue between artist and poet. "Sometimes we would discuss the placement of an image, which would leave me enough room to write the text," O'Hara recalled, "or I would say where I wanted the text and then he would decorate the rest of the stone." Because both were new to printmaking, they began with this sketch. On the reverse, they traced their marks to practice drawing and writing backward as they would need to do on the lithographic stone.