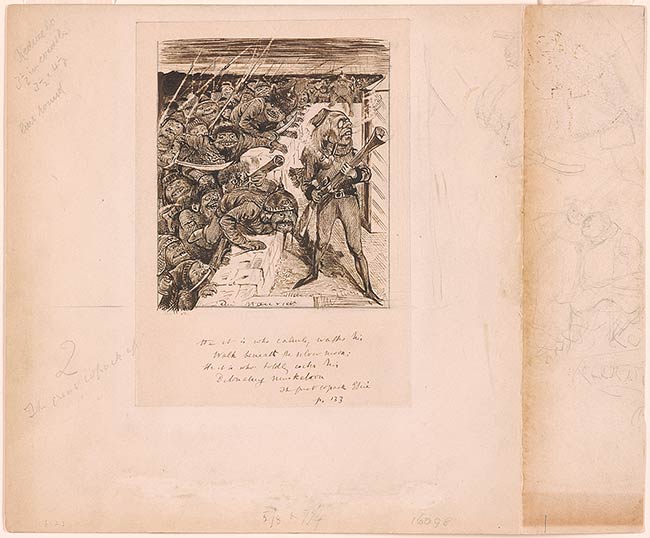 Illustrations of "The Great Copack Epic"
Pen and brown ink and graphite on paper.
9 15/16 x 9 1/2 inches (252 x 242 mm)
The Joseph F. McCrindle Collection.
Inscription:
Inscribed in pen and brown ink, "Du Maurier"; "He it is who [...] walks his / Walk beneath the silver moon; / He is who boldly cocks his / [...] / The Great Copack Epic / p. 133".
Provenance:
Joseph F. McCrindle, New York (McCrindle collection no. A0346).
Summary:
The present sketch is one of three drawings by Du Maurier that are associated with an unknown and probably unpublished text, "The Great Copack Epic." Du Maurier produced numerous satirical drawings that often commented on the Victorian social milieu of his day. Rendered with pictorial elegance, over a thousand images by him were produced for Punch, where he worked as a staff social cartoonist from 1860. All of the drawings in the Morgan's collection for "The Great Copack Epic" have beautifully penned legends by the artist that comment on the acute preoccupation Victorian England had with Eastern Europe.
Associated names:
McCrindle, Joseph F., former owner.