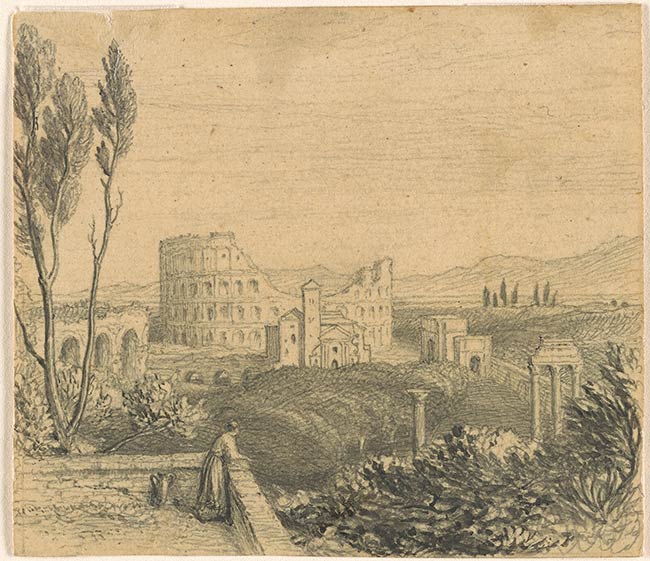 Black chalk with pen and black ink on paper.
2 11/16 x 3 1/8 inches (68 x 79 mm)
The Joseph F. McCrindle Collection.
Inscription:
Inscribed on verso, "Dickens Italy. / 3809 / Frame in panel".
Provenance:
Mrs. Caroline Scott, 1858 (removed from scrapbook); Sotheby's, London, 18 December 1963, lot 173; Thomas Agnew and Sons Ltd; Joseph F. McCrindle, New York (McCrindle collection no. A0768).
Bibliography:
Raymond Lister, "Catalogue Raisonné of the Works of Samuel Palmer (Cambridge: Cambridge University Press, 1988), no. 412iii, p. 151.
Notes:
In 1846, Charles Dickens (1812-1870) commissioned Samuel Palmer to illustrate "Pictures of Italy," a collection of vignettes and social commentary drawn from the author's travels in the southern peninsula. Dickens had originally choise Clarkson Stanfield (1793-1867) to illustrate his text, but his critique of the Roman clergy offended the artist's Catholicism and he quickly abandoned the project. Seeking a replacement for Stanfield, Dickens consulted with the prominent London gallerist Paul Colnaghi, who enthusiastically recommended Palmer based upon the drawings of Italian subjects he exhibited at the Royal Academy from 1840 to 1842. Palmer had traveled to Italy for his honeymoon in 1837 and remained there for 2 years, producing many sketches and studies that would later be used for his paintings. Consequently, the images produced for "Pictures of Italy" stand more as recollections of his own experiences than specific illustrations of episodes from Dickens's text. Dickens and Palmer met only once to discuss the project. During this meeting, the author presented Palmer with a book of his "Traveling Letters," a collection of dispatches from Italy which had been published serially in London's "Daily News" and were to serve as the basis for "Pictures of Italy" He also gave Palmer a copy of the poet Samuel Roger's "Italy" (1822-28), recommending its elegant Bewickian vignettes engraved from landscapes by Thomas Stothard and JMW Turner as a visual template. Palmer's drawing has all the exquisite delicacy of a miniature, evoking in charming detail a poignant nostalgia for Italy's picturesque ruins. The Colosseum of Rome is one five illustrations produced for the Dickens text, of which only four, including this one, were ultimately published as engravings. Though executed as studies, the drawings far surpass the final engravings in quality and visual effect, reflecting the ponderous difficulties Palmer encountered with the printers in his first commerical endeavor. Two of the five drawings - "The Villa d'Este at Tivoli from the Cypress Avenue" and "View in the Campagna" - are part of the Morgan collection.-Rory O'Dea, 2009.
Related Literature: Jane R. Cohen, Charles Dickens and His Original Illustrators (Columbus: Ohio State University Press, 1980); Raymond Lister, "The Book Illustrations of Samuel Palmer," The Book Collector, vol. 28 (1979): pp. 67-97.
Preparatory drawing for the first edition of Charles Dickens' "Pictures from Italy", London, 1846, which was engraved on wood.
Associated names:
McCrindle, Joseph F., former owner.