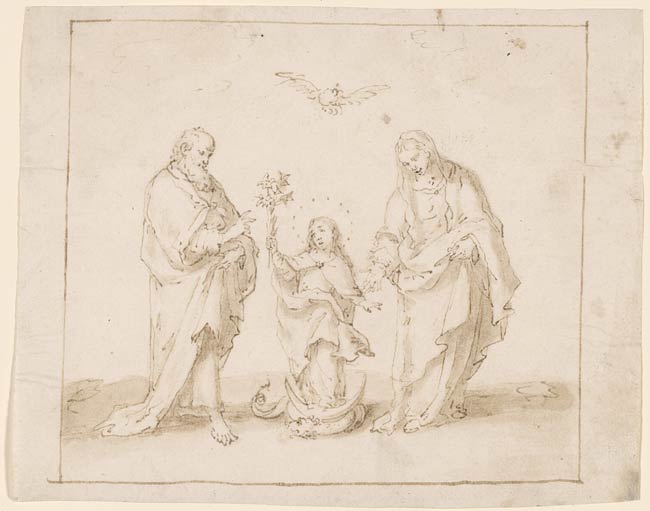 Circle of Antonio del Castillo
Pen and brown ink and wash on laid paper.
5 1/2 x 6 7/8 inches (140 x 175 mm)
The Joseph F. McCrindle Collection.
Inscription:
Inscribed on recto "A. del Castillo Saavedra P".
Watermark: Bull with eye, ears, horns, tail, located on center right of sheet; note unusual spacing of chain lines.
Provenance:
Joseph F. McCrindle, New York (McCrindle collection no. A0915).
Notes:
According to the scholar Benito Navarette, this depiction of the Holy Family originates from seventeenth century Andalusia, probably produced in Cordoba or Granada in the second half of the century (email correspondence with Clara de la Pena, June 2009). Though the sheet is unmistakably Andalusian, it is closer in style to the circle of Antonio Garcia Reinoso (ca. 1610/20-1677) than Antonio del Castillo, to whom it was given while in the McCrindle collection. The sheet is of particular interest because it follows a printed composition that was extremely well-known in Andalusia at the time, so much so that it was reproduced by Francisco Zurbarán's studio. The popular iconography of the Holy Family represented in this sheet was copied for many Latin American compositions as well, a significant example being a polychrome alabaster from the Jacinto Gijon y Caamano Museum in Quito (see Gutiérrez 1995, fig. 328, p. 335). Though the wide-spread dissemination of this composition clearly suggests its reproduction in print form, an actual print has yet to be located. Works cited: Ramon Gutiérrez, Pintura, escultura y artes útiles en Iberoamérica, 1500-1825 (Madrid, 1995).
Inscribed on mount: "Virgin Mary between Joachim & St Anne/She holds lillies, stands on a crescent moon & coiled serpent: The Holy Dove is above her head. Antonio del Castillo Saavedra Cordoba 1603-1667."
Associated names:
McCrindle, Joseph F., former owner.