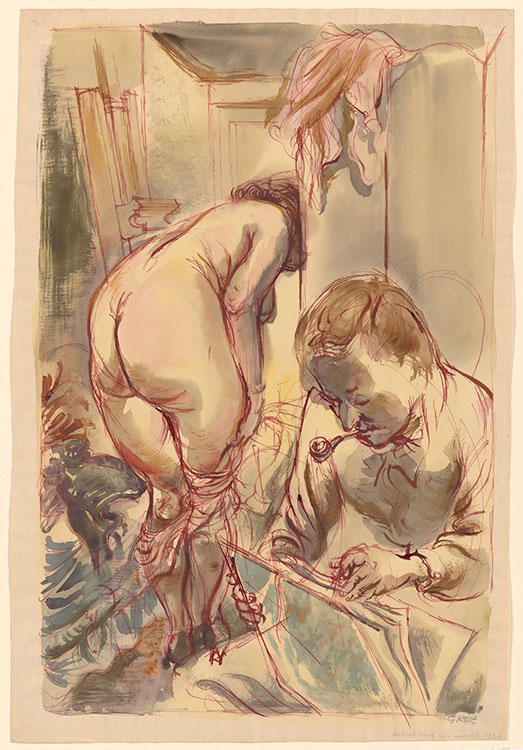 16 1/8 x 19 5/8 inches (588 x 392 mm)
The Joseph F. McCrindle Collection.
Inscription:
Inscribed at lower right in black chalk, GROSZ / Artist and his Model 1936"; stamped with the Grosz Estate Stamp (George Grosz Nachlass) on verso at lower right and numbered, 1-92-5.
Provenance:
Snyder, Dijon; Joseph F. McCrindle, New York (McCrindle collection no. A0510).
Notes:
At the Royal Art Academy in Dresden, where Grosz began his studies in 1909, it was common practice to spend days producing a single drawing of a live model. In contrast, at the private Colarossi painting school that Grosz visited while in Paris in 1913, during which time he produced hundreds of studies, only five minutes were allowed for each nude drawing. It is the latter ethos that would largely inform Grosz's work, and during the mid-1930s he worked prolifically, often producing multiple large watercolors in a single day. In "Artist and Model", Grosz portrays himself and his model-his wife Eva Grosz-in a moment of respite in the artist's studio. Each averts the gaze of the viewer. While Eva searches for her robe, boldly turning her posterior outwards, Grosz turns inward, intently reviewing the portfolio of his day's work. The immediacy and vibrant colors of Grosz's brushwork eloquently counterbalance the stillness of this moment of pause amidst artistic labor. Eva was a frequent subject for the artist, and the German writer Walter Mehring, a long- time friend of Grosz, described her substantial role in his art: "Wherever [Grosz] wished to incorporate the female figure, in its copious perfection, in his nude studies in the style of Rubens or Boucher, Eva would appear to him incarnate. There has hardly been another artist who has depicted a lover, indeed his own wife, with such a bewitched obsession, so monomaniacally, from bare nature to canvas, in all imaginable situations, until exhaustion." (Jentsch 2008, p. 214). "Artist and Mode"l is related to a number of other works by Grosz, including the significant canvases "Artist and Model", 1928 (Jentsch 2008, no. 218, p. 167) and "Self-Portrait with Nude", 1937 (Jentsch 2008, no. 303, p. 214). "Artist and Model" was included in the important exhibition, "George Grosz: Drawings and Watercolors", held at the Staatliche Kunsthalle in Baden-Baden in 1957. -Rory O'Dea, November 2009 Works cited: Ralph Jentsch, "George Grosz: Berlin-New York" (Milan: Skira, 2008); Ralph Jentsch, "George Grosz: The Berlin Years" (Milan: Electa, 1997).