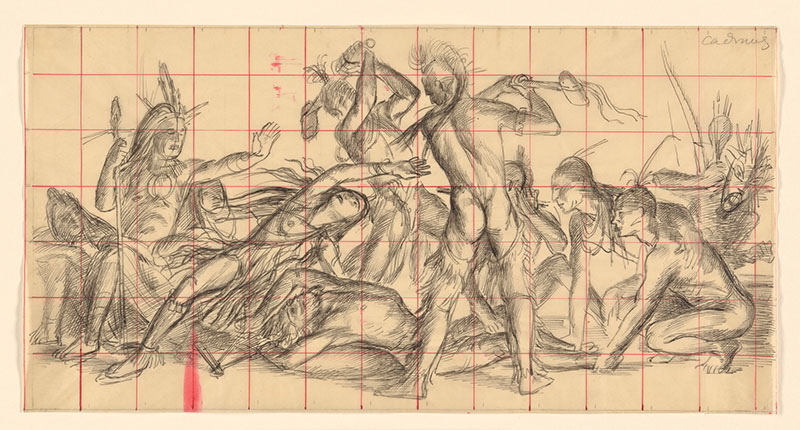 Mural Study: Pocahontas Rescuing John Smith
Pen and black ink, with red ink grid for transfer, on tracing paper.
7 1/16 x 13 3/4 inches (18 x 35 cm)
The Joseph F. McCrindle Collection.
Inscription:
Inscribed at upper right, in graphite, "Cadmus".
Provenance:
Midtown Galleries Incorporated, New York; from whom acquired by Joseph F. McCrindle, New York (McCrindle collection no. A0214).
Notes:
This sheet represents a mural study produced by Cadmus for the Parcel Post Building in Richmond, Virginia. The commission was part of the New Deal WPA program which provided work for unemployed artists. Cadmus's original design for the project stirred great controversy due to its frank depictions of male nudity. Although Pocahontas's breast remained bared in the final version, along with the buttocks of the central Native American in the foreground, Cadmus was forced to replace a furry fox-head he had suggestively placed over the groin of one of the attacking Native Americans. In a 1988 interview. Cadmus described the development of the mural and the ensuing scandal surrounding its imagery: "The first sketch I submitted couldn't have been more inappropriate, I realized, but didn't think of it at the time. I wanted a dramatic subject and I chose the burning of Richmond. Naturally Richmond didn't want that. So then I chose the subject of Pocahontas and John Smith. Then there were two side panels on the same wall. Sir Walter Raleigh was on one side and a Byrd on the other side. I can't remember which Byrd that was. If it was William Byrd of Virginia I don't know. They were rather boring people in historical costumes. But even Pocahontas caused a fuss amongst the powers that commissioned the mural because apparently a fox skin that I had covering one of the Indians that was about to behead John Smith ... the head of the fox was right over the genitals of the Indian, and they thought it was suggestive. I don't remember thinking it was suggestive when I did it. It just seemed where a fox's head would be. So I had to make it a fox's tail instead. That was the only fuss that I had about that mural. There was a little worry about perhaps too many nudes in the picture. I used friends as models. Lincoln Kirstein posed for one of the Indians. Jared French--looking rather like Jared French--was Captain John Smith and my sister posed for Pocahontas" (Cadmus 1988).