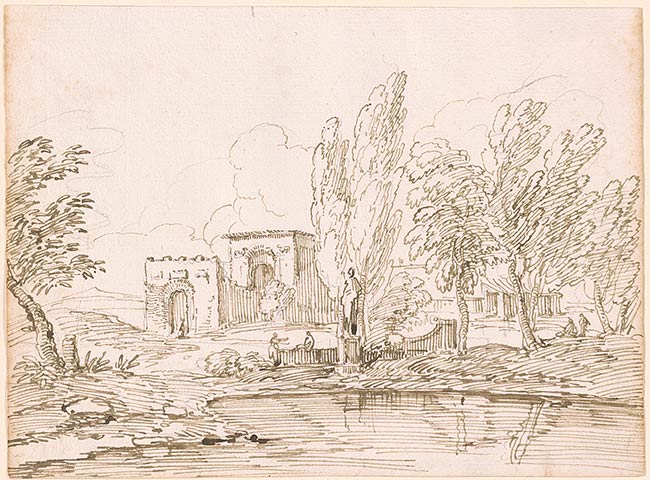 Busiri, Giovanni Battista
The Porta Romana in Florence
Pen and brown ink on laid paper.
6 11/16 x 9 inches (170 x 228 mm)
The Joseph F. McCrindle Collection.
Inscription:
Inscribed on verso in pen and brown ink, "La porta romana di Fiorenza 39".
Watermark: Lamb with penant, inside double circle, surmounted by letter "A" (Agnus Dei or Paschel lamb). See also 2009.74.
Provenance:
Joseph F. McCrindle, New York.
Notes:
McCrindle Number: B0026.
Giovanni Battista Busiri was a distinguished painter of perspectival and architectural vedute of Rome and its surroundings. His finest paintings, often executed in tempera, were acquired by English and Scottish tourists who passed through Rome on the Grand Tour (Francis W. Hawcroft, "The Cabinet at Felbrigg," The Connoisseur (May 1958), pp. 216-219). Busiri's imaginary and topographical drawings of Rome were typically executed in pen and brown ink, as in this example in The Morgan Library & Museum. The two most important collections of Busiri's drawings are in the Fitzwilliam Museum, Cambridge and the British Museum, London. The Fitzwilliam Museum's album with 93 studies includes Roman views, along with sketches of Pisa, Siena, Viterbo, Naples, Florence, and Marino (inv. 3963). As in the Morgan sheet, these drawings are characterized by a style that is quick and free, with an abundance of hatching. This drawing presents a view of the Porta Romana in Florence, which was an ancient Roman fortification also known as the Porta di San Pier Gattolini. A drawing in the Busiri album at the Fitzwilliam Museum, Cambridge depicts the same location from the exact viewpoint (inv. 3693 f.42). Both the Morgan and Fitzwilliam sheets portray the same tree at the left cut in half and figures seated on the low wall near the center of the composition (Andrea Busiri Vici, Giovanni Battista Busiri, Vedutista romano del'700. Roma, 1966. no. 133, p. 55).
Associated names:
McCrindle, Joseph F., former owner.