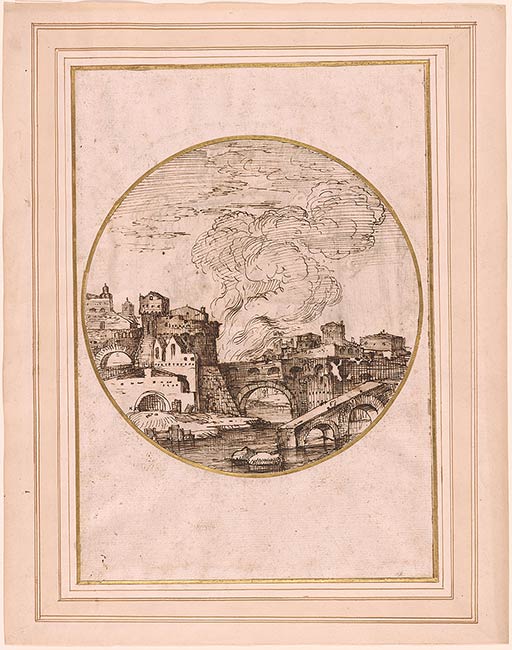 Giovanni Francesco Grimaldi
Rome in Flames. Verso: Landscape with Fisherman
Pen and brown ink on laid paper; verso: pen and brown ink.
12 1/16 x 8 3/8 inches (306 x 212 mm)
The Joseph F. McCrindle Collection.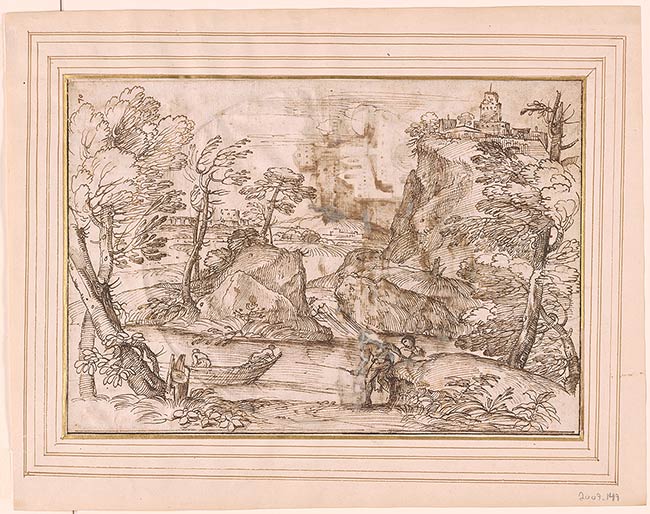 Inscription:
Inscribed on verso at upper left in pen and brown ink, "70".
Provenance:
Christies, Spring 1984; Joseph F. McCrindle, New York (McCrindle collection no. A1366).
Notes:
Giovanni Francesco Grimaldi, "il Bolognese," arrived in Rome in 1627 where he worked for private wealthy patrons on many decorative projects, including the Peretti Gallery of the Palazzo Peretti Almagià and the Villa Belrespiro. He also traveled to Paris in late 1648 to paint landscape and decorative cycles for Anne of Austria in the Palais du Louvre. This drawing from the Joseph F. McCrindle Collection, may have been made in preparation for a similar landscape cycle, specifically for tondi in friezes or decorated ceilings.
This double-sided sheet features a view of Rome with a fire in the distance on the recto, and a river landscape with fishermen on the verso, and it belongs to a series of drawings that feature a landscape drawn in a circular format on one side of the paper and in a horizontal one on the other. The British Museum, London owns six double-sided sheets in this manner, which provide a useful comparison to the present drawing (Nicholas Turner, Italian Drawings in the Department of Prints and Drawings in the British Museum: Roman Baroque Drawings, c. 1620 to c. 1700, London, 1999, pp. 81, 88-89, nos. 132, 133, 144(12-13,15,17)). The roundels can be compared with Grimaldi's series of etchings of landscape subjects in circular format (see Adam Bartsch, Le Peintre graveur, vol. 19, Würzburg, 1920, pp. 52-53, nos. 1-8).
The juxtaposition of format and subject on recto and verso recalls Grimaldi's many decorative projects, such as his ceiling painting made for Palazzo Nunez-Torlonia in Rome that features a central, horizontal scene (The Baptism of Christ) surrounded by six roundel landscapes (see Isabella Lodi-Fè, "Un disegno di Giovan Francesco Grimaldi," in Nuove ricerche in margine alla mostra, Da Leonardo a Rembrandt: disegni della Biblioteca reale di Torino: atti del Convegno internazionale di studi: Torino, Vigna di Madama reale (Villa Abegg), 24-25 ottobre 1990, ed. Gianni Carlo Sciolla. Torino, 1991, p. 298, fig. 8).
A copy of the verso is in the collection at Windsor (Inv. RCIN 905776).