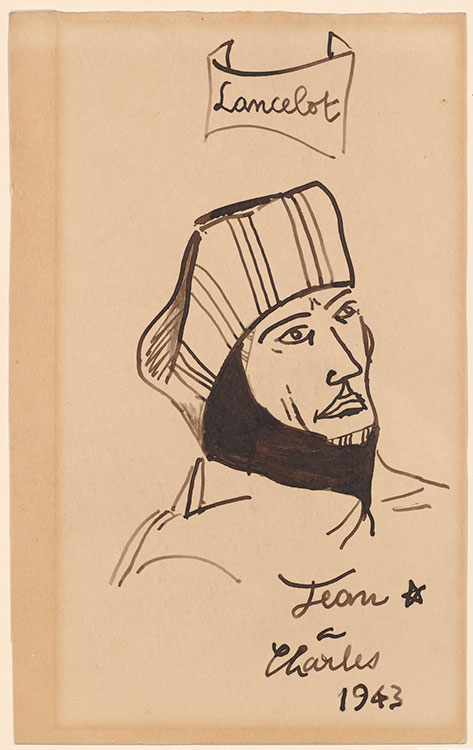 Unknown artist (forgery after Jean Cocteau, 1889-1963)
Brush and brown ink on paper.
9 13/16 x 6 1/8 inches (250 x 155 mm)
The Joseph F. McCrindle Collection.
Inscription:
Inscribed at lower right in brush and brown ink, "Jean à Charles 1943"; on verso, at top center, in graphite, "Dessin de Jean Cocteau/ en marge du texte de/ Chevalier de la Table Ronde, et/ fait a Paris chez lui/ 36 Rue Montpensier / le 26 Août 1943"
Provenance:
Joseph F. McCrindle, New York (McCrindle collection no. A1305).
Notes:
According to Cocteau scholar, Annie Guédras (Périgueux, France), this drawing is a forgery; she has entered the drawing in her personal archive as forgery no. 1371. Guédras believes the signature and inscription are not in Cocteau's hand, and she finds the date "1943" to be problematic because the majority of drawings for "Les Chevaliers de la Table Ronde" were executed between 1937-1939. In addition to being a writer, filmmaker, painter, draughtsman, and printmaker, Jean Cocteau was also a talented playwright. He collaborated with friends such as composer Erik Satie (1866-1955) and artist Pablo Picasso (1881-1973), on his avant-garde stage productions that were held at important Parisian venues. This drawing, executed in broad brush strokes of brown ink, features Lancelot, a lead character in Cocteau's 1937 Arthurian drama entitled "Les Chevaliers de la Table Ronde." The three-act play was first performed in Paris at the Théâtre de l'Oeuvre in October 1937, and it received generally unfavorable reviews from Parisian drama critics (Catherine M. Jones, "S/X: Fictions of Embodiment in Cocteau's Les Chevaliers de la Table Ronde," The French Review vol. 72, No. 4, March 1999, p. 687). According to an inscription on the verso, the drawing was supposedly made at Cocteau's apartment on 36 rue Montpensier, which was just adjacent to the Palais Royal. An inscription on the lower right of the drawing indicates that the sheet was a gift for "Charles." However, Annie Guédras firmly believes that the signature at the lower right is not in Cocteau's hand.