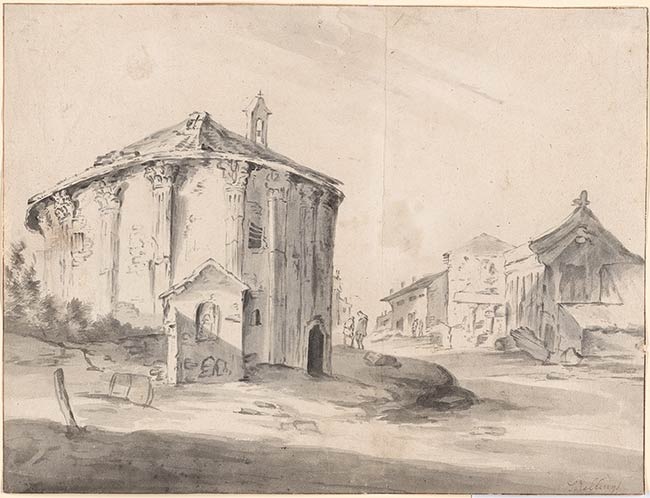 Brush and black ink and wash on paper.
9 13/16 x 12 13/16 inches (249 x 326 mm)
The Joseph F. McCrindle Collection.
Inscription:
Inscribed at lower right in pen and brown ink, "Schellings".
Watermark: Foolscap with seven points over "4" and three balls.
Watermark: Countermark: Letters "PL", centered between chain lines.
Provenance:
Joseph F. McCrindle, New York (McCrindle collection no. A0965).
Notes:
Amsterdam artist Willem Schellinks took two formative trips south in the course of his career. He traveled to France with fellow artist Lambert Doomer in 1646 and, upon his return to the Netherlands, began creating works with Italianate subjects. From 1661-1665 he went abroad a second time, to Italy. In Rome, he became a member of the Schildersbent, a society of Northern European artists who used the Roman compagna, particularly antique ruins, as the subject of their works. As in the case of the present sheet, they often created drawings either studied from life or designed to give that appearance. The temple depicted here, on the east bank of the Tiber near the Forum Boarium in Rome, was identified as a temple dedicated to Vesta through the eighteenth century due to its round shape. It was not until Napoleon ordered excavations of the area in 1811 that temple was correctly identified as the Temple of Hercules Victor. The temple had been converted into a church in the twelfth century, first known as Santo Stefano delle Carozze and later, from the seventeenth century, as Santa Maria del Sole. It is in this state that Piranesi pictured the structure in his Veduta del Tempio di Cibele a Piazza della Bocca dell Verità, which closely resembles the Schellinks drawing.
Associated names:
McCrindle, Joseph F., former owner.