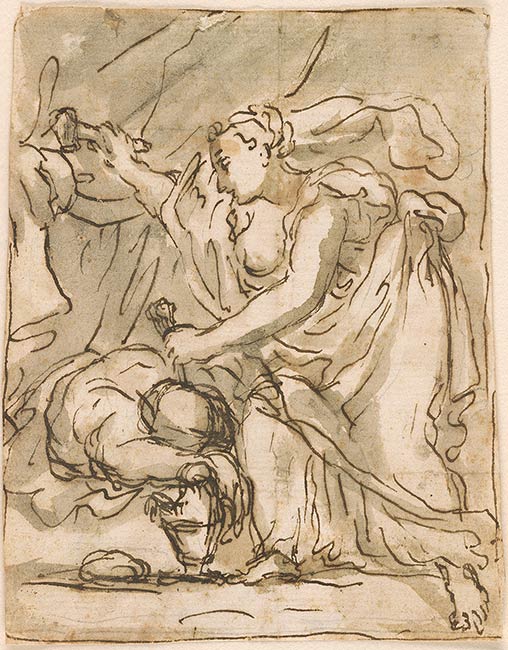 Pen and brown ink and wash and black chalk grid on paper.
5 x 3 13/16 inches (127 x 97 mm)
The Joseph F. McCrindle Collection.
Provenance:
Joseph F. McCrindle, New York (McCrindle collection no. A0566A).
Summary:
The subject of the present sheet is the story of Jael and Sisera. According to the Old Testament, the Israelites were ruled for twenty years by the cruel Canaanite leader Sisera. Barak, an Israelite, defeated Sisera's army, after which Sisera fled and took refuge in the tent of Jael, wife of Heber the Kenite. Later, when Sisera fell asleep, Jael snuck into his tent and killed him by driving a tent peg through his temple with a mallet, fulfilling the prophesy of Debora, who predicted that the honor of killing Sisera would be granted to another woman.
The drawing in the Morgan's collection is remarkably similar to a drawing by Gerbrand van den Eeckhout (1621-1674), a pupil of Rembrandt, now in a private collection. Van den Eeckout's work also features Jael and Barak with the corpse of Sisera. Jael's pose in the Morgan's drawing is likely derived from a woodcut print by Lucas van Leyden (1494-1533) of the same subject.
Associated names:
McCrindle, Joseph F., former owner.