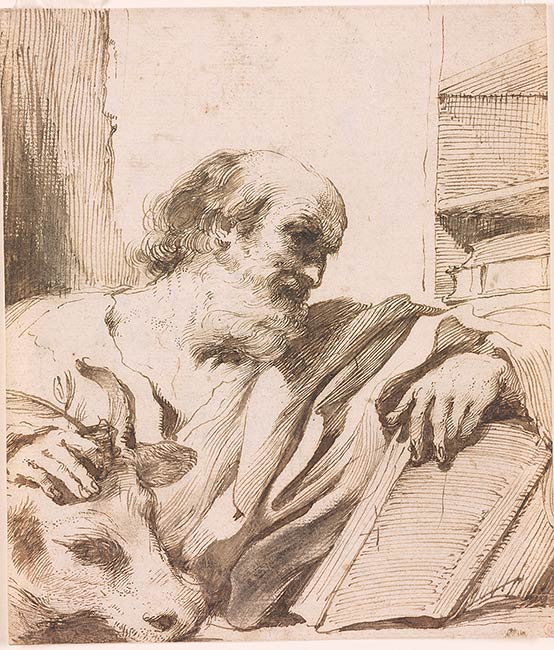 Pen and brown ink with brown wash on laid paper.
6 7/8 x 5 15/16 inches (175 x 151 mm)
The Joseph F. McCrindle Collection.
Provenance:
Col. William Bates (1824-1884), Birmingham (L. 2604); Joseph F. McCrindle (1923-2008), New York (McCrindle collection no. A0518).
Bibliography:
Marciari, John. Guercino : virtuoso draftsman. New York : Morgan Library & Museum, in association with Paul Holberton Publishing, 2019, no. 4, repr.
Stone 1991a, no. 75.
Den Broeder, Frederick A. Old Master Drawings from the Collection of Joseph F. McCrindle (Princeton, Princeton University Art Museum, 1991); Schwed, Nicolas. Dessins anciens et du 19ème siècle (Paris, 2008); Stone, David M. Guercino, Master Draftsman (Cambridge, MA, 1991); Turner, Nicholas. Guercino: la scuola, la maniera, i disegni agli Uffizi (Florence, Gabinetto Disegni e Stampe degli Uffizi, 2008-9).
Notes:
This sheet depicting St. Luke, identifiable by his attribute, the ox, was first identified by David Stone as the study for an engraving by Giovanni Battista Pasqualini (1595-1631), an engraver with whom Guercino frequently collaborated (Stone 1991, pp. 172-4, repr.; also Den Broeder 1991, p. 96, n. 8). The drawing's hatching/line-and-stipple technique is similar to that employed in printmaking, thereby enabling the easy transfer of the design from drawing to engraving. The Pasqualini print, an impression of which is in the Metropolitan Museum of Art, New York (inv. 1953, 53.600.2306; Stone 1991, fig. 75A, p. 175; Bagni 1988, no. 14, repr.) belongs to a series of the Four Evangelists dateable to ca. 1618-1619 (Bagni 1988, nos. 11-14, repr.). It reverses Guercino's drawing and presents a somewhat simplified version of it, though there are no major alterations. Two other preparatory drawings for the print series survive. The first, a pen and ink study of St. Mark in the Albertina in Vienna, is executed by Guercino in similar style to his Saint Luke (inv. 2332, Birke and Kertész 1992-1997, vol. 2, pp. 1221-1222, no. 2332). Unlike the Saint Luke composition, however, Pasqualini undertook more major changes for the St. Mark engraving, adding vertical hatching lines between the saint's head and the margin of the sheet and removing the small area of vegetation on the wall in the background (Stone 1991, p. 172). The second is a drawing of St. Matthew in the Uffizi (inv. 3717 S; Turner 2008-9, pp. 94-6, no. 51, repr.). Guercino treated the subject of the Four Evangelists several times between 1615 and the late 1620s, including two painted series from ca. 1615 and 1623, as well as a later series of drawings. This later series, probably from the second part of the 1620s, does not connect closely in composition or style with the early series (formerly in the collection of Francesco II d'Este; Schwed 2008, p. 16ff). Sean Leatherbury, 2009
Associated names:
Bates, William, -1884, former owner.
McCrindle, Joseph F., former owner.