Bear Hunt. Verso: Studies of a Man
Brush and brown ink with brown wash and opaque white on brown laid paper; verso: black chalk.
10 1/16 x 15 1/4 inches (256 x 388 mm)
The Joseph F. McCrindle Collection.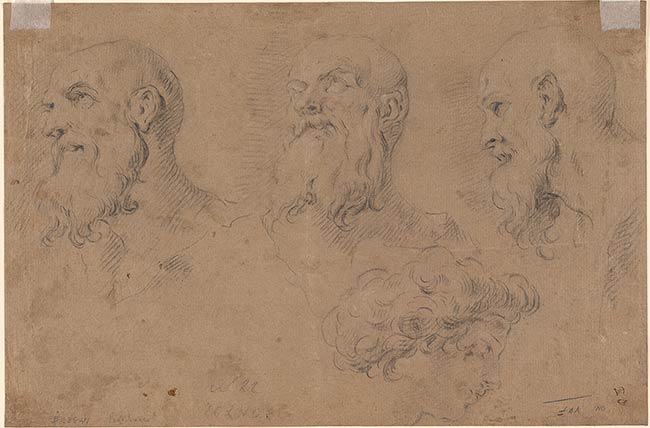 Provenance:
Joseph F. McCrindle, New York (McCrindle collection no. A0391).
Summary:
Though Francesco Fontebasso studied under Sebastiano Ricci, he emulated another Venetian artist, Giovanni Battista Tiepolo, more faithfully in his compositions and color strategies. Fontebasso was a celebrated painter, draftsman, and book illustrator who became head of the Venetian Academy a year before his death.
The recto of the present sheet depicts the seconds before a presumed combat between a dog, whose minder appears in the distance, and a bear. White highlighting, delicately applied, animates the figure and animals, simultaneously giving atmosphere to the landscape.
On the sheet's verso Fontebasso drew three finished portraits of the same bearded sitter. A portrait of a young boy, in the same hand, is situated at the lower right.
Associated names:
McCrindle, Joseph F., former owner.