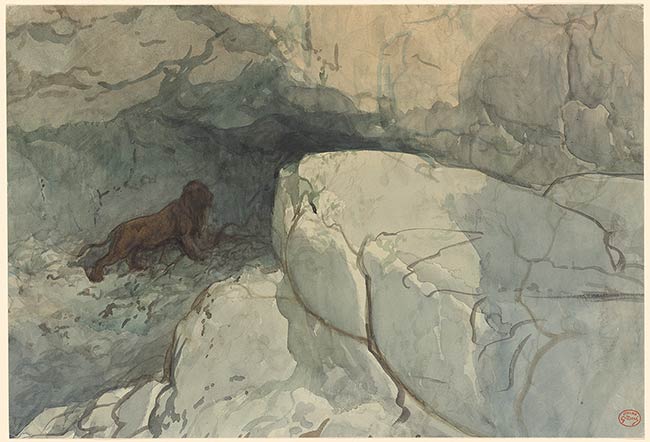 14 x 20 1/2 inches (355 x 521 mm)
The Joseph F. McCrindle Collection.
Provenance:
Joseph F. McCrindle, New York (McCrindle collection no. A0333).
Notes:
An Alsatian artist who specialized in book illustrations, Gustave Doré was perhaps most famous for his depictions of Biblical scenes as well as classic texts by authors such as Dante and Milton. The figure of the lion appears frequently throughout his oeuvre, often in the form of Biblical iconography from tales such as "Daniel in the Lion's Den" and "Samson Slays a Lion" (see Metken and Forberg 1975, cats. 188, 189, 190, 412, 536, 537, 656, 666). In the Morgan's large watercolor, Doré depicts a powerful lion striding into its cave dwelling. Though Doré endows his lion with a muscular physical presence, the majority of the sheet is given over to an exploration of the rocky topography of the lion's den, the shadowy forms and crevices of which Doré evokes through subtle tonal washes of grays and greens articulated by a network of craggy linear patterns. Works cited: Gunter Metken and Gabriele Forberg, Gustave Doré: das graphische Werk (Herrsching, 1975).
Studio Stamp at lower right corner, in red ink, "Altelier Gve Doré".
Associated names:
McCrindle, Joseph F., former owner.