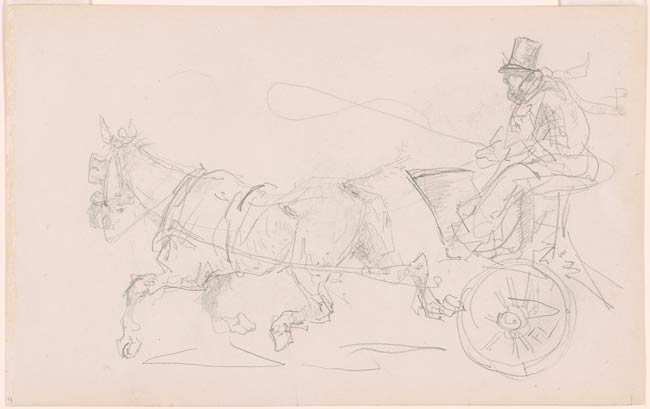 Henri de Toulouse-Lautrec
Man Driving a Hack. Verso: Slight sketch of a circus monkey seen from behind, wearing a coat and waving a cap
6 1/4 x 9 7/8 inches (158 x 250 mm)
Gift of Sonja Kramarsky Binkhorst in memory of Lola and Siegfried Kramarsky, and in honor of Franz Koenigs and Tine Koenigs van der Waals.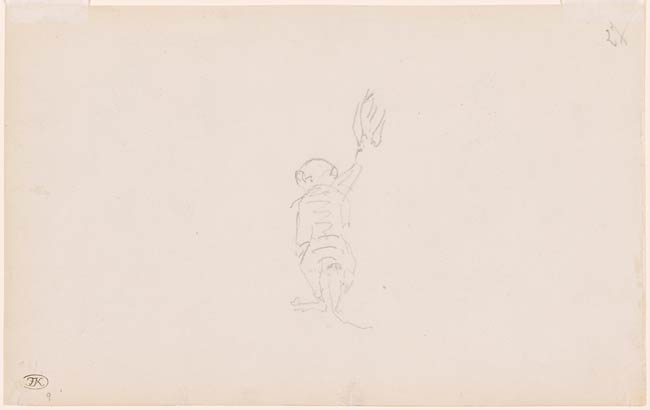 Inscription:
Numbered in pencil at lower left corner on both recto and verso, "9".
Provenance:
Franz W. Koenigs, banker, Cologne and Haarlem (1881-1941; Lugt S. 1023a); his daughter, Christine van der Waals-Koenigs, after May 1948; by whom given to Mrs. Lola Kramarsky; Siegfried and Lola Kramarsky; their daughter, Sonja Kramarsky Binkhorst.
Notes:
Watermark: none.
One of eleven sheets (2004.36:1-11) from two sketchbooks removed from a linen-clad album decorated on the front cover with the artist's monogram. From his aristocratic upbringing, Toulouse-Lautrec developed a lifelong fascination with horses, which were a frequent subject in his paintings and drawings. In this sheet from an early sketchbook, the wiry line and lively calligraphic style characteristic of the artist's sketching technique capture with remarkable conviction the animal's movement as well as the driver's posture.
Associated names:
Koenigs, Franz, former owner.
Waals-Koenigs, Christine van der, former owner.
Kramarsky, Lola, former owner.
Kramarsky, Siegfried, former owner.
Binkhorst, Sonja Kramarsky, former owner.