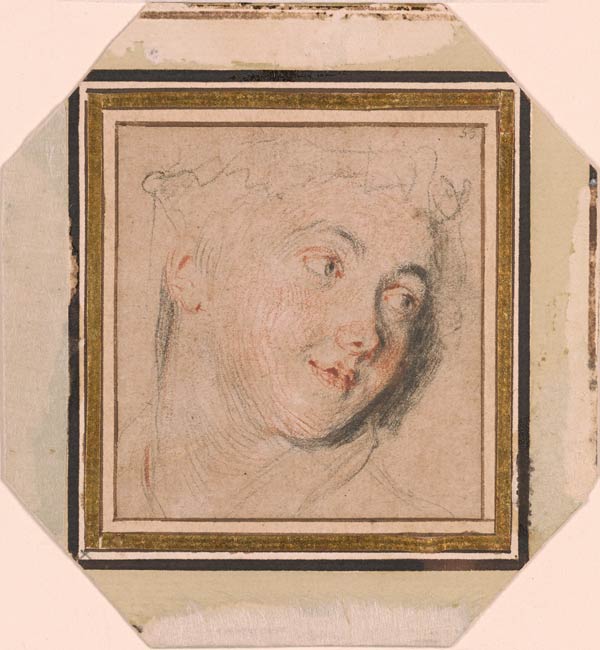 Head of a Woman, Turned Three-Quarters to the Right
Red and black chalk on paper.
2 3/4 x 2 1/2 inches (70 x 65 mm)
Gift of Mr. and Mrs. Bernard Kramarsky in memory of Lola and Siegfried Kramarsky on the occasion of the 75th anniversary of the Morgan Library and the 50th anniversary of the Association of Fellows.
Provenance:
Pierre Jean Mariette (1694-1774; no mark); not in his sale 14 November 1775-30 January 1776; Sir Frederick Locker Lampson (1821-1895; Lugt 1692); Rowfant (Sussex); his sale, London, Christie's, 11 May 1923, no. 70; sale, Bellingham-Smith of London, Amsterdam, F. Muller, 5-6 July 1927, no. 138, repr.; sale Gentili di Giuseppe, Paris, Galerie Charpentier, 5 April 1938, no. 23, repr.; Siegfried Kramarsky, New York, in 1957; Mr. and Mrs. Bernard Kramarsky, New York.
Notes:
This small, engaging sketch, cut from a larger sheet of studies, was used by the artist in conjunction with his most celebrated painting, the Pilgrimage to the Island of Cythera (Musée du Louvre, Paris), and a subsequent variation, the Embarkation for Cythera (Schloss Charlottenberg, Berlin). The Louvre canvas dates to 1717, when it was exhibited at the Académie as the artist's long-overdue reception piece; it was followed by the Berlin repetition painted for a private patron ca. 1718/19. This study of a head of a woman corresponds directly to that of the pivotal central figure in the Louvre canvas and can be dated the same year; the figure was repeated almost without change in the second version. The woman, with her expressive over-the-shoulder glance, embodies the wistful melancholy for which the painting is justly famous and which has inspired nearly three centuries of interpretative accounts of the subject. In the painted versions, Watteau has embellished the woman's head with a coiffure and hat, and she is shown with her eyes cast further downward at her seated companions, with a more idealized visage than in this robust study from life.
Associated names:
Mariette, Pierre Jean, 1694-1774, former owner.
Locker-Lampson, Frederick, 1821-1895, former owner.
Rowfant, former owner.
Kramarsky, Siegfried, former owner.
Kramarsky, Bernard, former owner.