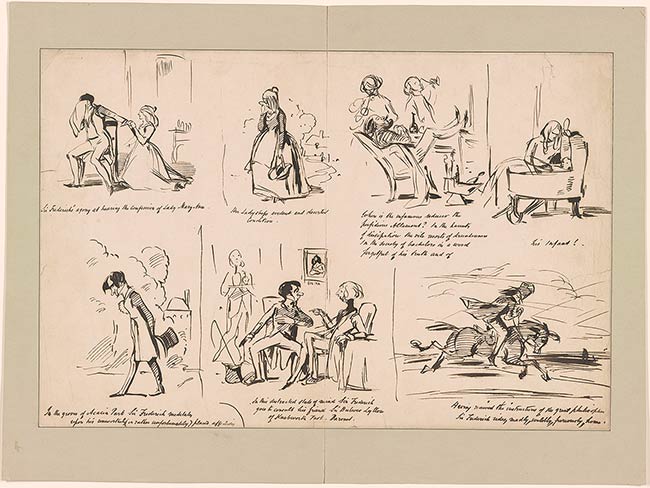 Thackeray, William Makepeace
Satires on the works of Sir Edward Bulwar Lytton
11 x 16 15/16 inches (279 x 421 mm)
Purchased by J. Pierpont Morgan.
Inscription:
Inscribed by the artist in brown ink on drawing, "Sir Frederich's agony at hearing the confession of Lady Mary Anne; Her Ladyships evident and discreet condition; Where is the infamous seducer the perfidious Altamout? In the haunts of discipation the vile worth of drunkenness in the society of bachelors in a word forgetful of his truth and of; his infant!; In the groves of Acacia Park Sir Frederich Medalaly upon his unworthly (or rather unfortunately) placed affections; In this distracted state of mind Sir Frederich goes to consult his friend Sir Bulwer Lytton of Knebworth Park Bar[-]; Harvey received the instructions of the great philosopher; Sir Frederich rides, madly, wildly, forwardly home"; verso: inscribed in graphite at top left, "Thackeray. Satires on the works of Sir Edward Bulwar Lytton"; inscribed in another hand in graphite at bottom right, "Given to Mrs. E. M. Fitzgerald-by Thackeray".
Provenance:
Mrs. Edward Marlborough Fitzgerald, by descent to her son; from whom acquired in 1887 by J. Pearson & Co, London; Augustin Daly, New York, (July 20, 1838 - June 7, 1899) who incorporated the drawing into a volume with the Brookfield Correspondence, his sale, American Art Galleries, New York, 19 March, 1900, lot 3403; from which acquired by Pierpont Morgan.
Associated names:
Fitzgerald, Edward Marlborough, Mrs., former owner.
Daly, Augustin, 1838-1899, former owner.
Morgan, J. Pierpont (John Pierpont), 1837-1913, former owner.